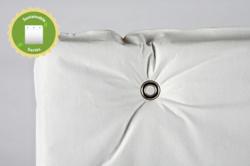 [LEED] certification sets us apart from other retailers and allows us to promote the very tangible difference that we're making
Richmond, VA (PRWEB) February 23, 2012
For years Acoustical Solutions, the industry leader in noise control, has offered products that help businesses earn Leadership in Energy and Environmental Design (LEED) credits. This year, however, they set out to offer a cohesive line that takes advantage of all recyclable and sustainable materials available, earning more credits and easing the decision of builders to choose green products.
"We have always been conscious of the need to offer 'green' or environmentally friendly products, and LEED has made them more appealing to our client base," said Dave Ingersoll, Sales Manager at Acoustical Solutions, Inc., "but I think that the Sustainable Series we released this year will draw even more businesses and builders to LEED certification because they earn so many credits and are affordable".
LEED was developed by the U.S. Green Building Council (USGBC) in March 2000 and provides building owners and operators with a set of guidelines for building or converting existing structures into green spaces. What is appealing about being LEED certified are not only the ethical issues, although the public anxiety over environmental concerns is certainly not decreasing, but the fiscal as well. LEED certification qualifies business for tax rebates, zoning allowances, and according to a 2010 study conducted by McGraw Hill Construction, green building improves the property owner's return on investment 9.9% for new construction. For existing building projects that figure is 19.2%.
Acoustical Solutions has an extensive client list that ranges from top broadcasting companies such as CNN and HBO to colleges and universities such as Richmond's own Virginia Commonwealth University. Many of these clients are beginning to look closer at obtaining LEED certification, like corporate client, Best Buy: "With LEED certification, Best Buy gains the advantage of third party verification," said Danielle Tallman, associate development manager at Best Buy, in an interview with USGBC, "we like that stamp of approval. It sets us apart from other retailers and allows us to promote the very tangible difference that we're making".
The Sustainable Series line of Acoustical Products includes Wall Panels, Ceiling Tiles, Cloud Mount Panels, and Baffles. They all use Ecose Fiberglass inserts, which are made with post-consumer bottle glass and are 100% recyclable, and covered in a Sustainable Eco-Fabric, the industry's first 'no-compromise' eco-friendly wallcovering platform. Sustainable Series products do not compromise on aesthetics, functionality, or price. They are just as affordable as traditional acoustical treatment and the fabric is available in a true, clean white, as well as many other patterns.
About Acoustical Solutions, Inc.:
Since 1989 Acoustical Solutions, Inc. has provided the detailed expertise needed to serve the noise control community. Acoustical Solutions, Inc. works with a wide variety of customers from commercial and residential development to worship facilities, recording studios and home theater designers. Acoustical Solutions, Inc. offers the industry's most comprehensive selection of noise control and soundproofing products, including a full line of indoor and outdoor industrial, commercial, environmental and architectural noise control products. For more information please visit http://www.AcousticalSolutions.com, call 1-800-782-5742, or see our media kit.
###