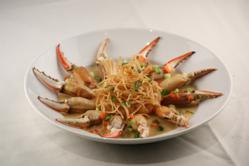 Houston, TX (PRWEB) February 22, 2012
During the Lenten season, Cordúa Restaurants will be offering a number of daily seafood menu selections during lunch and dinner. From February 22 through April 8, 2012, guests will find a full complement of seafood dishes on the menu along with weekly specials at both of the Cordúa mainstays, Américas and Churrascos.
For patrons observing Lenten dietary restrictions, Cordúa Restaurants will ensure a flavorful way to stick to the time-honored tradition of a seafood-centric diet, encompassing a spectrum of ceviches, soups, salads, taquitos and entrees. The lunch and dinner menus will also include many signature Cordúa menu items, as well as weekly specials such as the Lobster Al Ajillo: a three pound Maine lobster with a lemon, butter Al Ajillo sauce, priced at $-75 per person.
A sampling of items includes:
Américas
Ceviche – Four flights are offered including the Ahi Tuna, Salmon, Crab & Shrimp and Mixto; fresh market catch and gulf shrimp
Taquitos – Softshell Crawfish and Plantain Crusted Shrimp
Platitos – Potato Crusted Calamri, Lobster Corndog, Corn Smoked Crab Fingers
Sopas & Ensaladas - Carb Caprichosa Salad, Chupe de Langosta; Peruvian lobster bisque with fresh lobster, shrimp, crab meat and smoked crab fingers, corn, chayote squash and smoked panela cheese
Entradas – Shrimp Tallarines, Pargo Americas; corn crusted snapper, achiote grilled shrimp, citrus scented crema fresca, Salmon Caliente; grilled Atlantic salmon, warm shrimp ceviche, beurre blanc, pico de gallo, fresh avocado, Swordfish Churrascos and Arroz Paella – grilled market catch, shrimp, scallop, mussel, calamari, saffron rice
Churrascos
Antojitos (starters) – Frito Mixto, Ceviche Copacabana, Crab Spoonbread Martini – "fallen polenta soufflé;" jumbo lump crab & fresh corn spoonbread with habanero tarragon beurre blanc
Sopas & Ensaladas – Crab & Avacado Salad, Chupe de Camarones; Preuvian lobster and shrimp bisque, sherry, roasted corn, diced carrots, smoked panela cheese & tortilla crisps
Entradas – Shrimp Sirenas; butterflied jumbo plantain crusted shrimp & red pepper rémoulade with french fries, Gambas Al Ajillo, Andina; fresh seared tilapia with sautéed jumbo shrimp, mushrooms & roasted red pepper, cotijia cheese, Grilled Salmon; orange, jícama, avocado, red bell pepper, red onion salad with pineapple & citrus glaze
Locations:
Américas
River Oaks – 2040 West Gray, Houston Texas 77019
Phone - 832.200.1492
The Woodlands – 21 Waterway Avenue, The Woodlands, Texas 77380
Phone - 218.367.1492
Churrsacos
River Oaks - 2055 Westheimer, Houston, Texas 77019
Phone - 713.527.8300
Westchase – 9705 Westheimer, Houston, Texas 77042
Phone -713.952.1988
Sugar Land – 1520 Lake Pointe Parkway, Sugar Land, Texas77478
Phone - 832.532.530
Reservations – http://www.cordua.com
# # #