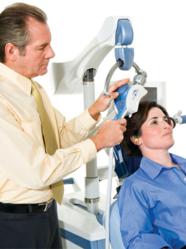 When I first met this patient, she was feeling down and hopeless.
McLean, VA (PRWEB) February 24, 2012
TMS Therapy is an non-drug, FDA-cleared, non-invasive medical treatment for patients with depression without any of the side effects typically experienced with antidepressant medication, such as weight gain, sexual problems or fatigue. It uses highly focused magnetic pulses to gently stimulate the area of the brain that controls mood. This specific area has been identified as under active in people who suffer from depression. Stimulation leads to the release of chemical neurotransmitters, relieving the symptoms of depression.
TMS NeuroHealth Centers, Tysons Corner, the first of a national network of centers offering TMS Therapy, recently opened its doors in McLean, Virginia. Dr. Niku Singh, Medical Director of TMS NeuroHealth Centers, Tysons Corner, and one of Washingtonian Magazine's Top Doctors in psychiatry for 2012, has been treating people with depression for a decade. He is very pleased to be offering TMS Therapy, the most advanced targeted therapy that stimulates the area of the brain affected by depression.
With respect to his most recent depressed patient, Dr. Singh commented, "When I first met this patient, she was feeling down and hopeless. She lacked interest in everyday activities and barely functioned at work. As a single mom of a young daughter, she felt guilty, even suicidal at times, about her inability to parent well, and tests indicated that she was severely depressed. This patient had not responded well to a variety of antidepressant medications, but after 30 sessions of TMS Therapy, she was no longer depressed – her Patient Health Questionnaire (PHQ-9) score went from 22 (severe) to 3 (not even mildly depressed)."
"TMS NeuroHealth Centers has given me my life back. Following my TMS Therapy treatment, I can sleep, my migraines are gone, my relationship with my daughter has improved, and even my colleagues are commenting that my mood is better," the patient said. She has implemented a diet and exercise plan and is highly motivated to maintain her mood and her weight.
About TMS NeuroHealth Centers
TMS NeuroHealth Centers are medical centers dedicated to helping those affected by neurological disorders live better lives. TMS NeuroHealth Centers provide access to the best medical expertise and the latest medical technology in the field of neurology. The first TMS NeuroHealth Center opened in Tysons Corner (McLean, Virginia) in November, 2011. To find out more, visit http://www.tmsneuro.com.
###