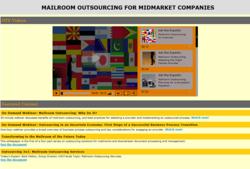 El Paso, TX (PRWEB) February 23, 2012
DATAMARK, Inc., a leading international business process outsourcing firm based in El Paso, Texas, today announced its sponsorship of a new Web destination where companies, government agencies and other organizations can find useful information about the outsourcing of enterprise mailrooms and other business functions.
Hosted by the Outsourcing Institute, the "Mailroom Outsourcing for Midmarket Companies" microsite can be reached by visiting http://www.outsourcingintelligencenetwork.com and hovering over the "Special Interest Groups" tab, or by clicking the direct link here. The Outsourcing Institute is a neutral professional association that serves as an information clearinghouse for buyers and providers in the outsourcing market.
The site offers registered members of the Outsourcing Institute access to video interviews with experts, on-demand webinars and downloadable white papers to help organizations learn more about options and solutions available through business process outsourcing.
Educational topics include:

Mailroom Outsourcing: Overview; Selecting the Right Partner; Planning for a Successful Process Migration; and Outsourcing Benefits.
The Mailroom of the Future Today: Using Digital Imaging and Automation to Lower Costs and Improve Quality.
Outsourcing in an Uncertain Economy: First Steps of a Successful Business Process Transition
The Outsourcing Institute will add content to the site on a regular basis, making it an ideal one-stop-solution for organizations at all stages of the outsourcing decision-making process.
About DATAMARK:
DATAMARK, Inc. is a leading provider of digital mailroom management, data entry, document processing and business process re-engineering solutions for Fortune 500 companies, government agencies and other large enterprises. Founded in 1989, our company is the strategic business process outsourcing partner for Top 10 companies across several industry sectors, including transportation and logistics, healthcare, insurance, banking and financial services. With onshore and offshore centers, DATAMARK delivers process optimization, technology and Enterprise Content Management solutions to help organizations achieve efficiency and profitability in all back-office business functions.
For more information, visit http://www.datamark.net.
About the Outsourcing Institute:
Founded in 1993, The Outsourcing Institute (OI), located at outsourcing.com, is a neutral professional association dedicated solely to outsourcing, providing information, research, networking opportunities and customized outsourcing services and solutions to the outsourcing industry. OI is recognized worldwide for its intellectual capital, outsourcing practice expertise and unbiased thought leadership. OI's commitment to innovation, along with its mission to advance the skills and knowledge of its membership, has made it the most respected and relied upon brand for the outsourcing marketplace. OI's executive network, which is comprised of more than 70,000 professionals worldwide, looks to OI as the go-to source for outsourcing thought leadership, information and advice.
###