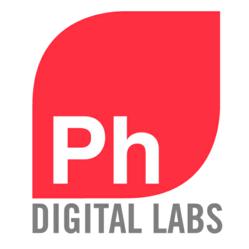 "It's not just about racking up more Facebook 'Likes' or ranking #1 on Google," says PH Digital Labs' Kyle Meehan, "it's about building a connection to between brands and people to fulfill their needs and achieve business goals and objectives."
Minneapolis, MN (PRWEB) February 23, 2012
PH Digital Labs is a new Minneapolis digital marketing agency fiercely dedicated to transforming a company's online presence into a revenue-producing, lead generating, brand building juggernaut.
The intent of the new firm is to apply measurable analytics and expert guidance to remove the guesswork that goes into many corporate digital marketing initiatives. The new firm uses four basic, yet potent, strategies to increase the effectiveness and reach of a company's digital marketing efforts, including: search engine marketing (SEO/PPC), social media marketing, digital content creation and intelligent web design.
The new digital lab is being launched by Kyle Meehan, director of strategy, who has worked for the past two years with Minneapolis advertising agency Pocket Hercules, an innovative hybrid advertising, PR and digital firm.
Meehan believes PH Digital Labs' point of differentiation from other digital marketing firms lies in its ability to harness digital innovations within the context of understanding the behavior and intent of a brand's customer, but most importantly how it all works together across the digital ecosystem.
"It's not just about racking up more Facebook 'Likes' or ranking #1 on Google," Meehan adds, "it's about building a connection to between brands and people to fulfill their needs and achieve business goals and objectives."
Meehan points to PH Digital Labs' online marketing work for Tiny Footprint Coffee, the world's first carbon negative coffee. Through a Facebook campaign that generated over 800% growth in the brand's fanbase, coupled with a strong push to reach coffee and eco-minded bloggers, the nascent coffee brand has been growing at a rapid pace and experienced several months of record breaking online sales. But most importantly, the brand's focus is to unite coffee drinkers around a cause to battle climate change through reforestation, a focus that is well understood in the execution of PH Digital Labs' digital strategies.
"That's the power of today's digital strategies that we aim to genetically engineer into the online experience of our clients," Meehan said.
The launch of PH Digital Labs is being funded by Pocket Hercules. PH Digital Labs represents Pocket Hercules' third venture opportunity in the past five years. The Minneapolis ad agency launched Lakemaid Beer (http://www.lakemaidbeer.com), a Minnesota-made lager marketed to fishermen and cabin owners throughout the Midwest that was launched five years ago, and Tiny Footprint Coffee (http://www.tinyfootprintcoffee.com), the world's first carbon-negative coffee, which was introduced in 2010.
"We view PH Digital Labs as a skunkworks for our firm. We want PH Digital Labs to push the boundaries of this vast and expanding frontier to develop new and more effective approaches to deliver measurable results that really matter for today's businesses," said Jason Smith, Pocket Hercules partner.
About PH Digital Labs
A Minneapolis digital marketing agency specializing in search engine marketing, social media, digital content and intelligent web design. To learn more, visit phdigitallabs.com or call 612-269-8419.
Media contact:
Stephen Dupont
Pocket Hercules
stephen(at)pockethercules(dot)com
612-435-8315
http://www.pockethercules.com
# # #