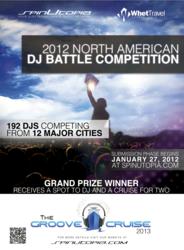 SpinUtopia is the reason i'm touring today... couldn't have done it without them!
North America (PRWEB) February 22, 2012
SpinUtopia and Whet Travel Offer the Opportunity of a Lifetime!
SpinUtopia and Whet Travel have come together to bring one lucky DJ the opportunity of a lifetime. The winner of this competition will receive a time slot to DJ on The Groove Cruise 2013 and will also get a cruise for him/her and a guest, an hour show on Pure.FM and an hour show on UDJRadio! Built on the backbone of the Battle platform on SpinUtopia.com, SpinUtopia has built the worlds first 12 city, National, DJ Mix Competition in a tournament bracket style online. The artists from these 12 cities will be selected from a pool of submissions starting 1/27/2012 and will be sorted by distance from the 12 cities.
The 12 cities involved will be...
Detroit, Chicago, Cleveland, Miami, Toronto, Dallas, New York City, Phoenix, Las Vegas, Los Angeles, San Francisco and Denver.
192 DJ's will compete in a total of 7 rounds and 2 months, this is expected to not only provide an opportunity for the winner but visibility for everyone involved that would far surpass anything available today. SpinUtopia can't wait to get this underway and find out who will be showcasing their talents on The Groove Cruise 2013 Miami.
Submission phase is scheduled to end on 2/26, get your mixes in today.
Make sure to visit SpinUtopia's sponsors - Whet Travel, The Groove Cruise, Unknown World, Younan Music, Paxahau, Pure.FM and UDJRadio.com
###