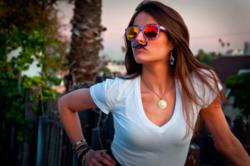 Los Angeles, CA (PRWEB) February 24, 2012
The Original Sun-Staches™ created by one of Worldwide Dynasty's staff designers, are sunglasses with a dangling mustache, that not only provide the functionality of sunglasses, but also represent a hairy twist to the current mustache craze. There are dozens of styles of the unique mustache sunglasses available, that appeal to mustache connoisseurs across the globe. Worldwide Dynasty is a Chatsworth, California Corporation that specializes in designing, manufacturing, and importing original cutting edge accessories, that cater to the mass market.
Who wears Sun-Staches? Justin Bieber, Carly Rae Jespen, Selena Gomez, Ashley Tisdale, just to name a few, as well as the potential 8+ million viewers, challenged by Justin Bieber to make a video just like this one of "Call Me Maybe" with their friends. http://www.youtube.com/watch?v=AsBsBU3vn6M&feature=youtu.be
If you want to wear eyeglasses that also provide a little disguise, or are crazy about the notion of mustache sunglasses, our original Sun-Staches™ , can be found at the following retailers:
Spencer Gifts
Claire's
Urban Outfitters
Amazon.com
For product information or wholesale and Licencing inquiries, please contact us at dan(at)hiphopwholesale(dot)com or (818) 407-2968.
Sun-Staches™ Copyright and design patent for the original Sun-Staches product designs pending.
###