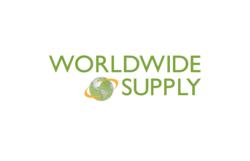 Franklin, NJ (PRWEB) February 24, 2012
WORLDWIDE SUPPLY has been named one of the Best Places to Work in New Jersey. This survey and award program identifies, recognizes and honors the top places of employment in New Jersey that benefit the state's economy, its workforce and businesses. "I am proud that we have built the kind of organization where employees can succeed," said Jay VanOrden, CEO & Managing Partner of WORLDWIDE SUPPLY. "We take the concept of work/life balance seriously and our employees thrive in that environment."
The Best Places to Work in New Jersey program is made up of 100 companies split into two groups: 52 small/medium-sized companies (15-249 employees) and 48 large-sized companies (more than 250 employees). WORLDWIDE SUPPLY has been named one of the Best Places to Work in New Jersey in the small/medium category.
To qualify, companies had to fulfill the following eligibility requirements:

Have at least 15 employees in New Jersey;
Be a for-profit, not-for-profit or government entity;
Be a publicly or privately held business;
Have a facility in New Jersey;
Companies from across the state entered the two-part process to determine the 100 Best Places to Work in New Jersey. The first part consisted of evaluating each nominated company's workplace policies, practices, philosophy, systems and demographics. This phase was worth approximately 25% of the total evaluation. The second part consisted of an employee survey to measure the employee experience. This phase was worth approximately 75% of the total evaluation. The combined scores determined the top companies and the final ranking.
The overall registration and survey process was managed by Best Companies Group (BCG). BCG also analyzed the data provided and used their expertise to determine the final rankings.
For more information on the Best Places to Work in New Jersey program or to reserve your seats to the awards dinner and ceremony on Wednesday, April 25, 2012 at the Hilton East Brunswick, please visit http://www.njbiz.com/events.
About Worldwide Supply
WORLDWIDE SUPPLY is a recognized leader in the secondary network hardware marketplace, providing and buying networking and telecommunication equipment to, and from, companies globally.
Headquartered in northern New Jersey, and with offices in California, Michigan, Minnesota, New York, North Carolina, Oklahoma and Texas, WORLDWIDE SUPPLY provides a full line of certified pre-owned and new-surplus networking and telecommunication products from major manufacturers such as Cisco, Juniper, Arris, Calix, Extreme and Motorola.
WORLDWIDE SUPPLY also helps companies with their green IT efforts through its trade and exchange program, TradeNet™.
WORLDWIDE SUPPLY is TL9000 and 9001:2008 certified. For more information, visit http://www.worldwidesupply.net.
If you'd like more information about this topic, about Worldwide Supply or to schedule an interview with Worldwide Supply CEO, Jay VanOrden, please contact Veronique Deblois at 973-823-6412 or via email at pr(at)worldwidesupply(dot)net.
# # #