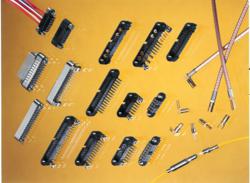 Since 1998, In2Connect UK Ltd has stocked many popular examples of these great little connectors. Nicomatic and In2Connect UK ~ the originals and still the best
Southampton, UK (PRWEB) February 24, 2012
In2Connect UK Ltd, In2Connect UK Ltd has now stocked many popular examples of these great little connectors for clients like BAe Systems, Thales and others for over 10 years. Their success has been such that a decision to stock SMT type connectors has become inevitable.
Nicomatic in France is the inventor of the CMM 220 Mixed Layout PCB micro-connector system developed for the defence, aerospace and transportation markets where applications to date include IFES, HUDs, flight controls, FADEC units, radars, missiles, electro-optical sighting systems, satellites, mobile radios, power supplies and engine controls and stocked in the UK by In2Connect.
The Nicomatic CMM 220 system is a cost effective 2mm pitch connector with reliability under the most extreme environmental conditions. The Nicomatic CMM 220 range is similar to the popular ITW McMurdo M200/M300 micronector also stocked by In2Connect and the Harwin Datamate 2mm series, but offers 'mixed layout' capabilities, hence providing the designer with a choice of High Frequency, High Power, Low Frequency and Fibre Optic in a familiar common, space saving footprint. An integral jacking mechanism or locking by spring latch depending upon the CMM series offers security of interconnection, whilst a high temperature insulator allows infrared on vapour phase soldering. Termination styles are also available for through-hole, surface mount and press-fit.
Along with a small, space saving 2mm footprint, (enables up to 50% space saving over conventional 2.54mm systems), the system also features a high reliability contact design, which performs well under conditions of extreme vibration.
Nicomatic CMM 220 micro-connector features include:

MIL-C-55302 & BS-9525-F0033 compliant
Excellent mechanical and environmental characteristics
2mm pitch footprint
Light weight & space saving
Mixed-Layout and higher density: high, low frequency or high power
Board to board, board to wire & wire to wire connections
Full jackscrew mechanism: rack, floating or locked
Built-in screwjacks to counter high vibration
Connector housing marking for full traceability
Resistance to solvents, radiations & oxygen free
Reflow solder process compatible (+260°C)
Suitable for infrared, wave or vapour phase soldering
RoHS and REACH compatible plus tin whiskers free
From its origin in 1976 as a micro screw machining manufacturer, NICOMATIC has taken advantage of its precision know how to specialize in the development, design and manufacture of electronic connectors and metal dome switching technology for membrane switches and mobile phones. Nicomatic production capabilities include everything from low volume high technology products to mass production of precision components for the consumer markets.
For these and other Nicomatic micro connector ranges see:
http://www.in2connect.uk.com/cmm220/320.html
Since its formation in 1998, In2Connect UK Ltd has supplied commercial, industrial and military connectors worldwide. With over 40 years' experience in cable and connectors, we provide effective solutions to PCB and cable-end interconnect challenges ~ from d-subs to multipin rectangular and circular, filtered and hermetic connectors, backplane connectors and edgecards; custom cable assemblies and optical fibre.
Our website at http://www.in2connect.uk.com was created to provide customers with fast and easy access to the connector ranges we produce or handle. Acrobat files of datasheets may be downloaded from the product page for individual connector product lines which include edgecard connectors, d connectors, waterproof d connectors, d connectors filter, combination d sub, connector accessories, 2mm Hard Metric backplane, PC 104, HE 801 2 part PCB, DIN 41612 connectors, rack and panel, IDC, micro connector 2mm, DIN 43650. Extreme temperature cables, medical cables, flexible cables, air and space cables, control cables, UL/CSA, fibre optic cables.
Tel: +44 (0)1962 773004 | sales(at)in2connect(dot)uk(dot)com | In2Connect
# # #