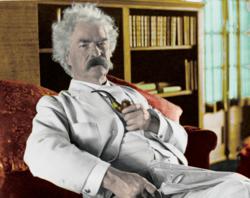 What better way to celebrate Mark Twain than aboard Queen of the Mississippi and on the river that played such a large role in his life and literary contributions. - Timothy Beebe, Vice President, American Cruise Lines
Guilford, CT (PRWEB) February 23, 2012
American Cruise Lines (http://www.americancruiselines.com), the leader in small ship cruising, announced today the offering of a Mark Twain tribute cruise aboard the brand new authentic paddlewheeler, Queen of the Mississippi. The cruise will honor the famous American author and humorist often referred to as the "Father of American Literature." Virtually synonymous with the life along the Mississippi River, his experiences are immortalized in his famous writings including Life on the Mississippi (1883), Adventures of Tom Sawyer (1876) and Adventures of Huckleberry Finn (1885).
Available on the September 15th seven-night /eight-day St. Louis roundtrip, American Cruise Lines will celebrate Twain's life and works. During his career, Mark Twain spent several years as a riverboat pilot on the Mississippi River. This cruise will take guests along the River in the same way that Mark Twain would have seen it, and will highlight many of the most important places and events in his life.
Planned stops include an extended visit to his childhood hometown in Hannibal, Missouri. Additional features of this tribute cruise include:
▪ Mark Twain Impersonator & Entertainer
▪ Exclusive tour of Mark Twain Boyhood Home & Museum
▪ Onboard display of a First Edition copy of Life on the Mississippi
▪ Guided trolley ride throughout Hannibal
▪ Guest Gift: Special edition copies of Adventures of Tom Sawyer and Huckleberry Finn
▪ Honorary dinner and cocktail reception
"What better way to celebrate Mark Twain than aboard Queen of the Mississippi and on the river that played such a large role in his life and literary contributions," said Timothy Beebe, Vice President of American Cruise Lines. "Cruising aboard Queen of the Mississippi is a historic experience on its own. This tribute cruise heightens that experience and reinforces our efforts to provide enriching cruises for our passengers."
With this cruise, American Cruise Lines aims to provide an unforgettable journey back in time with history and adventure at every bend in the river. It will capture the spirit of Twain's own ideals: "Twenty years from now you will be more disappointed by the things that you didn't do than by the ones you did do," Twain wrote. "Explore. Dream. Discover."
The Queen of the Mississippi carries 150 guests in spacious staterooms, many of which are twice the size of those on any other Mississippi riverboat. Staterooms feature large private balconies with sliding glass doors and all of the amenities today's travelers expect, while maintaining the elegance of classic late 1800s Mississippi riverboats. American Cruise Lines will operate the authentic paddlewheeler over the entire Mississippi River System, including the Ohio and Cumberland Rivers. The Queen of the Mississippi will also be able to travel at significantly higher speeds than all other Mississippi riverboats, minimizing night travel and making more itineraries possible with longer visits to the river towns. A number of unique riverboat journeys are planned that take passengers as far north as St. Paul, MN on the Mississippi River and as far east as Pittsburgh, PA on the Ohio River.
About American Cruise Lines
American Cruise Lines, the largest U.S. cruise company, operates the newest fleet of small ships in the industry and offers more than 35 unique itineraries along the inland waterways and rivers of the Pacific Northwest, Alaska, the Mississippi River System and East Coast of the United States, from New England to Florida. To learn more about American Cruise Lines, visit our Website at http://www.americancruiselines.com or call (800) 814-6880. Also find us on Facebook and Twitter.
# # #