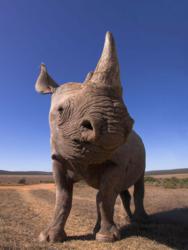 (PRWEB) February 22, 2012
WHAT: Telephone Interviews Available
WHO: Matthew Lewis, African Rhino Expert at World Wildlife Fund
Barney Long, Asian Rhino Expert at World Wildlife Fund
HOW: Contact Caroline Behringer at (443) 285-1925 or caroline.behringer(at)wwfus(dot)org
WHY: Poaching of rhinos has reached epidemic proportions, with 448 killed last year in South Africa alone. The issue will be featured in-depth tonight at 9:00pm ET/8:00pm CT on NBC's Rock Center with Brian Williams. World Wildlife Fund has experts available for interviews to discuss the situation on the ground and what it will take to stem this crisis that has left three of the remaining five rhino species critically endangered.
The poaching crisis is tied to increased demand for rhino horn in Asia, particularly Vietnam, where it carries prestige as a luxury item and a purported cancer cure. According to some reports, the illegal trade in wildlife - including rhino horn - is the third most profitable illicit trade globally, after drugs and arms. Some rhino horns make it into the U.S. where they end up on the black market for traditional medicines.
As Tom Milliken of TRAFFIC, the wildlife trade monitoring network of WWF and IUCN, explains, rhinos are easy targets for poachers and their horn is easily concealed and smuggled across borders. A record 448 rhinos were poached in South Africa last year, despite increased law enforcement efforts. More than half of these rhino deaths occurred in world-famous Kruger National Park.
WWF and TRAFFIC are providing assistance to rangers, criminal investigators, prosecutors, and customs authorities in both Africa and Asia to help stop the poaching. Additionally, TRAFFIC has facilitated visits between South African and Vietnamese government officials to discuss deepening cooperation. A bilateral treaty to ramp up law enforcement collaboration between South Africa and Vietnam was negotiated in September 2011 but still remains unsigned.
South Africa has been the epicenter of rhino poaching, but rhinos in other African and Asian range countries are also being targeted by poachers. In October, WWF announced the extinction of rhinos in Vietnam. The last Javan rhino in the country was found killed by poachers and its horn removed. Meanwhile, effective conservation and law enforcement efforts ensured that no rhinos were lost to poaching in Nepal in 2011.
For more information, visit http://www.worldwildlife.org/who/media/press/2012/WWFPresitem26967.html.
Photos and video available upon request.
###