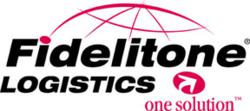 Wauconda, Ill. (PRWEB) February 23, 2012
Fidelitone Logistics, an industry leader in third-party logistics and supply chain performance announced the relocation of its 5600 2nd Street NW, warehouse in Albuquerque, NM. The new facility, located at 801 Comanche NE, will accommodate the expanding needs of existing client partners and offer additional space for the company's future growth. Fidelitone expects the relocation to be complete by the beginning of March.
"As our client partners' needs continue to evolve and our company continues to grow, we needed to find the right facility in the right location for our customers. It made great sense for our company to select the Comanche location for our new facility," said Jon Priest, Regional Vice President of Operations. "Our new location will provide 115,000 square feet of storage space which is 30,000 square feet more space than our previous location. Additionally, the new facility will offer a better quality interior and C-TPAT security, which is becoming a larger priority for our client partners."
Fidelitone's warehouse network includes four locations in Albuquerque, NM serving companies from a variety of industries including: medical devices, alternative energy and building products. The Comanche location is strategically located near Interstate 25 for easy connection to other cities throughout the Southwest and across the country.
For more information on the specialized warehousing, fulfillment or transportation solutions available from Fidelitone's Comanche location, please visit http://www.fidelitone.com.
About Fidelitone Logistics
Fidelitone Logistics is an industry leader in 3PL and supply chain performance that delivers value-added solutions for business partners and their clients. As a logistics innovator since 1929, expertise includes: fulfillment, last mile delivery, supply chain management, transportation management and warehousing. Headquartered in Chicagoland, Fidelitone Logistics is a privately-held company with more than 25 locations and 500 employees throughout the United States. To date, more than 1 million shipments are managed by Fidelitone Logistics each month, for a variety of customers ranging from Fortune 100 companies to start-up organizations. For more information, please visit http://www.fidelitone.com.
###