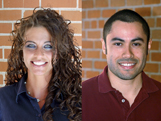 Now I have the opportunity to move forward with my education. I feel strong and passionate about my schooling. -- Jose Guzman Jr.
Phoenix, AZ (PRWEB) February 24, 2012
Two Phoenix College students have been named to the 2012 All-Arizona Academic Team, which recognizes the top community college student scholars in the state. As part of the honor, Kathryn Banning and Jose Guzman, Jr., will receive scholarships and tuition waivers to an in-state university of their choice to continue their education.
They were formally recognized at an awards luncheon on Wednesday, February 22, 2012, at the Hilton Phoenix East in Mesa.
The program recognizes top scholars from Arizona's community colleges for their academic performance, leadership and community engagement. Team members also must be members of local chapters of the Phi Theta Kappa Society, the national community college honors organization.
The All-Arizona Academic Team is divided into first, second and third rankings, with cash awards of $1,000 for those named to the first team, $750 for the second team and $500 for the third team. Banning was named to the second team and Guzman the third team.
Banning intends to use the scholarship and tuition waiver to continue pursuing a four-year Nursing degree with plans to continue on and receive a master's degree in the nursing field. Guzman is seeking a bachelor's of science in Biochemistry as a prelude to medical school. Both plan to pursue their studies at Arizona State University.
Banning cited her experiences at Phoenix College as helping propel her into a second career. A mother of six, she and her husband ran a successful small business in Illinois before the 2008 recession forced its closure. The couple and their children moved to Queen Creek, Arizona, shortly thereafter.
Banning initially took classes at Chandler-Gilbert Community College but came to PC to become a nurse. She currently has a 4.0 grade point average and received the 2011-2012 Maricopa Community College Foundation Scholarship. She also volunteers at Mercy Gilbert Medical Center in its Maternal Child Health Department and as well as with youth sports activities involving her children.
She enjoyed the PC environment so much that she has continued to take all her coursework at the central Phoenix campus. In addition to receiving scholarships, Banning started a scholarship to benefit fellow PC students. Her goal for the "Making a Difference" Scholarship is to eventually provide $1,000 annually to a PC student.
"This school has completely changed me as a person," she said, citing its family-like atmosphere and the support she's received from her professors and others.
She said becoming a member of the All-Arizona Academic Team will give her a greater ability to balance her time between parenting and her academic studies.
For his part, Guzman says the financial benefits of being on the team will help him realize his dream of attending ASU.
"Now I have the opportunity to move forward with my education," he said. "I feel strong and passionate about my schooling."
The son of a retired Army Staff Sgt., Guzman said he hopes the honor will improve his chances of going to medical school. "When I applied for this, I didn't realize the extent of all that it provided," he said. "I'm excited now as I realize the benefits."
In addition to his academic performance, Guzman, who maintains a 3.82 grade point average, has spent many hours volunteering. Currently he works full-time as a medical courier at St. Joseph's Hospital and Medical Center, where he also volunteers. Prior to that, he accumulated more than 1,500 hours of volunteer time doing neighborhood cleanups and other community activities in central Phoenix as a junior volunteer for the Phoenix Revitalization Corporation.
"When I started volunteering, I was fulfilling requirements," he recalled. "But after I started doing it, I felt this sense of being needed and making a difference. It just fell into place."
Phoenix College is one of the 10 regionally accredited Maricopa Community Colleges.
###