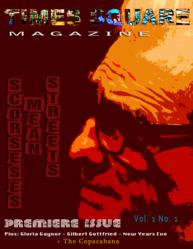 Vol 1. No.1 pays tribute to the people and places that make New York City and Times Square truly iconic, the world over.
New York, NY (PRWEB) February 25, 2012
Times Square officially launches its magazine today in New York City. The TimesSquare.com Corporation, an iDataware® company, is proud to announce the launch of its new electronic magazine; Times Square Magazine. Available on various platforms such as Apple, Andreoid, and it's partner Mapazine.com.
TimesSquare.com Publisher Lorenzo Tartamella, and Editor-in-Chief, Joey Franco made the announcement this morning.
Tartamella and Franco have dubbed the premiere issue as the Icons Issue. Vol 1. No.1 pays tribute to the people and places that make New York City and Times Square truly iconic, the world over.
Academy Award winning director Martin Scorsese graces the cover of the first issue. Other icons featured in the first edition include Mayor Ed Koch, Actress Marisa Tomei, Disco Queen Gloria Gaynor, comedian extraordinaire Gilbert Gottfried, and the world famous nightclub; The Copacabana!
The magazine will feature exclusive interviews with the who's who of New York's vivid entertainment, music, and comedy scene, and much more. A very hot section will feature local Times Square eateries and clubs.
The magazine will also feature an exclusive locals section. Times Square welcomes over 50 million visitors a year and we often forget that it is a growing neighborhood.
The first issue can be viewed online and on apple devices at the following address:
http://issuu.com/timessquare.com/docs/vol.1no.1
About TimesSquare.com
TimesSquare.com was first established in 1995. The website was kept as a web portal reporting on news, events, arts, and entertainment. Today, the namesake portal of Times Square, TimesSquare.com brings us to the foreground of the arts and culture scene, benefiting New Yorkers and tourists alike. Site visitors may actually book hotels from the website or buy tickets for popular Broadway shows.
About iDataware® Holdings
The iDataware® Corporation is a Multimedia holdings companies with interests in the Publishing, Internet, Music, Entertainment promoters, and Film production and distribution industries. With offices in cities around the world, including New York City, Montreal, St. Louis, LA, Bangalore, Manila, Paris and Rome, iDataware® combines over 32 years of experience in 29 countries to every division of the iDataware Corporation. Employees from around the world love to call iDataware® a Family.
For Further information or press inquiries please contact
Victor Boreski
VB(at)123(dot)ca
# # #