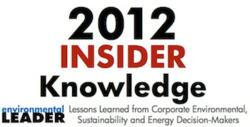 The report reveals executives charged with managing environmental and energy programs are trying to balance smaller budgets with the need to cut energy use and improve environmental performance
Fort Collins, CO (PRWEB) February 23, 2012
Environmental Leader will release the 2012 edition of its complimentary Insider Knowledge Report, providing lessons learned from corporate environmental, sustainability and energy decision-makers, during an upcoming webinar on Wednesday, February 29, 2012 11:00 AM PST / 2:00 PM EST.
To receive the report, join Constellation Energy, Environmental Leader and LNS Research for a one-hour best practices webinar delivering essential education and practical advice on best practices and pitfalls to avoid in managing environmental, energy and sustainability programs.
All webinar attendees and registrants will receive a complimentary copy of Environmental Leader's 2012 Insider Knowledge Report.
Executives from Ford, Diageo, US Postal Service, Marriott, Nike, Akamai, 3M, Wal-Mart, McDonald's, Unilever, Yahoo, Blue Shield of California, Nike, General Mills, Staples, Xerox, AMD and more than 100 other enterprises contributed to the report.
"The report reveals executives charged with managing environmental and energy programs are trying to balance smaller budgets with the need to cut energy use and improve environmental performance," says Paul Nastu, Environmental Leader's Publisher.
You can register for the webinar and reserve your copy of the report here:
http://event.on24.com/r.htm?e=404070&s=1&k=361BBED940AC7FD4725A80394791FAA9
"As a national leader in providing competitive energy supply and sustainable energy solutions to government agencies and businesses from Main Street to the Fortune 100, we know firsthand how companies can buy and use energy more efficiently," says Michael Smith, Senior Vice President of Green Initiatives for Constellation Energy, the webinar and report corporate sponsor. "This report provides many best practices that we'd love to see enterprises implement."
About Environmental Leader:
Since 2006, Environmental Leader (http://www.environmentalleader.com) has been the definitive and objective b2b voice reporting on business-related energy, environmental and sustainability issues.
About Constellation Energy:
Constellation Energy (http://www.constellation.com) is a leading competitive supplier of power, natural gas and energy products and services for homes and businesses across the continental United States. It owns a diversified fleet of generating units, totaling approximately 12,000 megawatts of generating capacity, and is a leading advocate for clean, environmentally sustainable energy sources, such as solar power and nuclear energy.
# # #