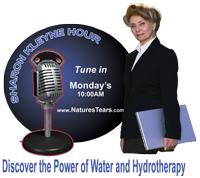 Grants Pass, OR (PRWEB) February 23, 2012
According to Sharon Kleyne, Founder of Bio-Logic Aqua Research and Host of the Sharon Kleyne Hour, understanding eye hydration and the eyes' all-important tear film and could help prevent dry eye disease. Especially important is the environment's role as a cause of dry eye.
Sharon Kleyne defines "eye dehydration" as the loss of the eye's natural tear film water content. "Eye Hydration," is defines as the replacement of lost tear film water (the tear film is 99% water). Adequate tear film water is essential to the healthy functioning of not only the eyes (and every other part of the body, and all life on Earth).
Eye dehydration and tear film water loss can weaken resistance to bacterial and viral invasion, impair visual functioning and lead to numerous eye diseases and conditions. Dehydration related eye conditions include itching and/or burning eyes, blurred vision, transient dry eye syndrome, severe dry eye syndrome, corneal ulceration, glaucoma, computer eye strain, eye allergies, eye cancers and more.
In the past 20 years, according to Sharon Kleyne, the incidence of eye dehydration and dry eye has dramatically increased and is becoming a global health crisis. Much of the increase, Mrs. Kleyne notes, can be attributed to environmental factors.
A major contributor is global climate change (whether human caused or a natural cyclical fluctuation) because the tear film obtains much of its water from the surrounding humidity in the air (it obtains the rest from the water you drink). In many areas, the air in becoming dryer and the humidity lower. This lowers the potential for hydration from the air and increases tear film water evaporation.
Even where the air is not dry, the humidity could be contaminated by air pollution, creating dehydrating and unhealthy conditions.
Sharon Kleyne's popular radio talk show, Sharon Kleyne Hour Power of Water, is sponsored by Bio-Logic Aqua Research, whose Nature's Tears® EyeMist® is the only all-natural, all water eye mist that is patented and specifically configured to soothe dry eye symptoms and supplement tear film water. Nature's Tears® EyeMist® is available at http://www.BioLogicAqua.com, Amazon.com, drugstore.com and selected drugstores nationwide.
Listen to the Sharon Kleyne Hour Power of Water Mondays, 10 a.m., PST/PDT. The syndicated radio talk show is heard on Voice America/World Talk Radio, Green Talk Network and Apple iTunes. Go to http://www.SharonKleyneHour.com for written summaries and on-demand replays. Also visit http://www.naturestears.com, http://whatistheeye.wordpress.com, "Nature's Tears EyeMist" on Facebook and "Bio-Logic Aqua" on Twitter.
© 2012 Bio-Logic Aqua Research
###