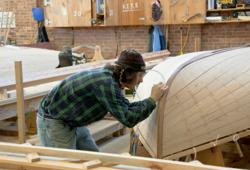 "This funding program is both opening opportunities to veterans and enriching the pool of people who train for an industry that is vital to this region."
--Susan Daly, IYRS
Newport, RI (PRWEB) February 23, 2012
IYRS, a marine trades and technology school, is located on the Rhode Island coast amidst one of the nation's strongest pockets of marine-industry activity. The school attracts individuals from all walks of life; accountants, restaurant workers, engineers, farm hands, administrative workers and students who never clicked in academic settings are among those who come to IYRS to change their livelihoods and their lives. But a new demographic of students is quickly emerging at this waterfront school: veterans hoping to rebuild their careers by building boats.
As of October 2011, IYRS became one of the learning institutions approved to certify benefits to eligible veterans via the Post-9/11 Veterans Education Assistance Act (Chapter 33). This funding program, in addition to the school's high job-placement rate, has inspired new interest from veterans looking at IYRS as the pathway to a new career.
"This funding program is both opening opportunities to veterans and enriching the pool of people who train for an industry that is vital to this region," said Susan Daly, IYRS vice president of marketing. "Not only do our veteran students have the mechanical and hands-on aptitude to build and maintain boats and their systems; they also have soft skills prized highly by employers—such as the ability to work in teams and to problem-solve."
Veterans and other individuals interested in marine careers can learn more about job and training prospects at the school's upcoming Marine Industry Career Day. Career Day takes place Saturday, March 3 at the IYRS Newport campus (449 Thames Street, Newport, R.I.) from 10 am to 1 pm. The event is free to the public and includes presentations by experts. Employers from throughout New England will attend.
IYRS maintains two campuses in Rhode Island, in Newport and Bristol. The school's Boatbuilding & Restoration Program is located at the waterfront Newport campus. Students in this program learn to build and restore classic boats that were launched as long as a century ago on a campus that includes two historic buildings from 1831 and 1903 and one of the world's leading boat-restoration projects, the revival of the rare 1885 schooner yacht Coronet.
The school's teaching facility in Bristol is home to the Marine Systems Program, where students learn to install, troubleshoot and maintain the onboard systems used on modern and classic boats, and the Composites Technology Program, where students learn both hands-on skills and the theory behind fast-evolving composites technology used in industries such as boat building, wind energy, aerospace and transportation.
For more information on IYRS programs and Career Day, visit http://www.iyrs.org or call 401-848-5777, ext. 203 or ext. 216.
###