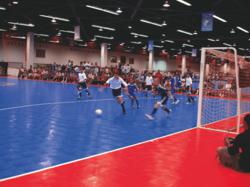 SnapSports, is proud to offer a high-quality sport surface that meets the needs of players of any skill level..." - Jorgen Moller, SnapSports.
Salt Lake City, UT (PRWEB) February 23, 2012
SnapSports® Athletic Surfaces, will be joining the Cal South Soccer Nation Expo, the nation's largest soccer exhibition, as a partner of Kohl's, providing SnapSports multi-patented BounceBack® athletic surfacing with patented ShockTower® Technology, for the Kohl's Interactive Recreational Area, February 25-26, 2012, at the Los Angeles Convention Center, in Los Angeles, CA. SnapSports will also be on hand with a display area, to further demonstrate the multi-patented athletic surfacing.
SnapSports, the official flooring of the United States Futsal Federation (USFF), engineers it's court flooring to specifically meet the needs of the high-impact and fast play that are required in the sport of Futsal and Indoor Soccer. A patented resilient shock technology(ShockTower®) is designed with performance and safety in mind, offers excellent impact control, superior ball response, and safe play features making SnapSports Athletic Surfacing the industry rated favorite amongst athletes and coaches.
"SnapSports, is proud to offer a high-quality sport surface that meets the needs of players of any skill level, our multi-patented athletic courts are specifically engineered for durability and top rated in the industry for performance and safe play." – Jorgen Moller, SnapSports.
The Cal South Soccer Nation Expo incorporates exhibits and display areas where attendees can interactively play, learn and experience soccer as never before. This year's, event will feature a Kohl's sponsored interactive area, with surfacing provided by SnapSports, where members of the Cal South Coaching Education and Olympic Development staff will be giving instruction on drills specifically targeted for younger developmental players. Kohl's handpicked SnapSports athletic surfacing above all others, to ensure that their young players had the industries top rated and only USFF approved modular surfacing to meet the demands of high performance play.
Based in Salt Lake City, Utah - The team at SnapSports have been engineering, manufacturing and providing the world's leading outdoor game courts and modular athletic surfaces for nearly four decades! As the pioneers of the modular sports surfacing and outdoor game court industry you play on today, the SnapSports team continues to develop the most advanced, multi-patented, modular sport surfacing and outdoor multi-courts for top athletes the world over. With unparalleled experience and a high performance product line, SnapSports is the industry's undisputed champion. SnapSports manufactures 24 x 7, in a 100,000 square foot ISO 9001:2008 Certified facility in Salt Lake City, UT, and is supported by an authorized global network.
SnapSports is the official sport surfacing provider for the United States Futsal Federation (USFF), AAU Basketball Jam on It, Volleyball Festival, Special Olympics, the 2011 World Police & Fire Games, AAU Basketball All Under One Roof and USA Team Handball. In addition, SnapSports is an approved 'FIBA Associate Manufacturer' and SnapSports athletic surfaces have been tested and comply with the European Union EN-14094 standard.
###