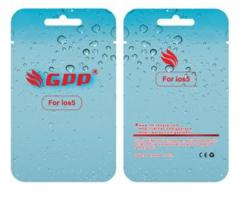 Plug and Go - unlock iPhone 4s in seconds
Los Angeles, CA (PRWEB) February 23, 2012
GPPTeam.net released the world's first true iPhone 4S unlock solution that is only 1 step - plug and go. The GPP SIM is a true 1 step unlocking solution which requires no jailbreak or manually dialing 112, which are a huge improvement over other solutions like Gevey SIM or R-Sim, which required tedious software steps.
This newly developed unlock solution enables 3rd party mobile operator network SIM cards to be used on any AT&T locked iPhone 4S; a feat which was previously unavailable. This means an AT&T locked iPhone 4S can now be used with the T-Mobile network in the United States as well as any other GSM operator in the world.
The website's homepage features a YouTube video which shows how the GPP SIM unlocks AT&T iPhone 4S along with iPhone 4S from Japanese operator KDDI and Australian Softbank. The video demonstrates how the operator locked iPhone 4S unlocked by GPP SIM can be used by 3rd party operator SIM cards to make phone calls and browse the internet.
For people who are interested to try the new technology, the product can be ordered here at a cost of $64.99. Based on the product webpage, the products is better than any other available iPhone 4S unlock solutions such as Gevey, R-Sim, Rebel Sim by the following features:
No jailbreak needed – plug and play
Unlock all AT&T iPhone 4S
Works with all firmware versions including 5.0 & 5.0.1
No need to dial 112 – works without having to tinker around with software
Thin custom SIM tray for easy fit
Does not damage phone or warranty
Stable EDGE and 3G communication, 2G/3G dynamic switching
Supports MMS (multimedia message)
Unlock once, enjoy for a lifetime.
GPPTeam.net, the creator of products like i3gSIM and China3GPP, has been providing solid and legitimate unlock solutions since 2008 for iPhone, iPhone 3 and iPhone 4. The YouTube channel also has some historical videos demonstrating the unlock of the original iPhone with similar technology.
###