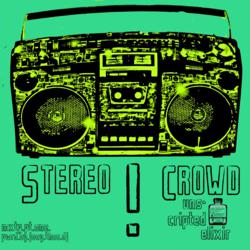 Miami, FL (PRWEB) February 23, 2012
Urban alternative band Stereo Crowd recently released its mixtape "Unscripted Elixer Part 1." Coast 2 Coast Mixtapes presents the project, which is now available for free download. "Unscripted Elixer Pt. 1" features the members of Stereo Crowd on tracks with guest artist appearances from Dee-1, D Jukes, Patty Cakes, George 2.0, Jamila Hall, Devyn Rush, Joey Thee DJ, Kiel Perry, Freddy Fuego, Sampson, and Kristen White.
Stereo Crowd, New York City's ambassadors of urban alternative, mix diverse styles of music—hip hop, R&B, rock, and soul, and bring passion and energy to their live performance. Incubated on the rooftops of South Harlem, Stereo Crowd, with its undeniable stage presence and renowned nurturing of audience participation, is quickly becoming known in New York City's music scene. Stereo Crowd's sound is a Black Eyed Peas-style hip hop combined with the amped-up angst of The Black Keys, live band flexibility of the Roots, and sprinkled with soul and R&B. The band is joined together by their passion for diversity. Together the members create music that makes people of all degrees of melanin get up, get down, and unleash their boogie nature.
"Unscripted Elixer Part 1" is available for free streaming and download at http://coast2coastmixtapes.com/mixtapes/mixtapedetail.aspx/stereo-crowd-unscripted-elixir-part-1
###