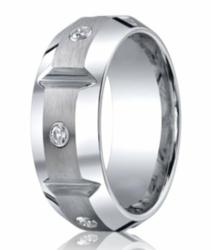 MWR is pleased to announce that designers have paired cobalt with diamonds in a luxurious new collection and they are happy to introduce these rings to their customers.
Jensen Beach, FL (PRWEB) February 23, 2012
In keeping with MWR's commitment to meet the ever-changing needs of men's wedding ring buyers; this retailer is pleased to offer a wide range of contemporary metals, including designer cobalt diamond rings. Shoppers have come to expect the greatest variety of metals from their online store, which includes several other collections from well-known wedding ring designers. This new collection is the first to pair lustrous cobalt with sparkling diamonds, allowing these platinum look-alike rings to be even more attractive to buyers. Men's cobalt designer diamond rings give MWR's customers another affordable alternative to pricier precious metals.
Adding to their premium designer collections in gold, diamond, platinum, Argentium silver and seranite, MWR is among the first to offer a selection of designer cobalt diamond rings for men. As gold prices rise and jewelry buyers become more practical with their selections, brilliant cobalt chrome is expected to be a popular choice for grooms-to-be in 2012. Mens-Wedding-Rings.com has earned a reputation for offering shoppers an incredible selection of traditional and alternative wedding rings to match their individual tastes. Designer cobalt diamond rings are one of the more recent entries into the "contemporary metals" category at MWR, but they are quickly becoming a favorite. MWR customers have fallen in love with this brilliant white metal, and are even more excited about the latest designer styles.
Just two years after the launch of their online store, Mens-Wedding-Rings.com has become known as one of the best retail marketers in the wedding ring industry. A major contributor to this early success has been their dedication to providing an unparalleled resource for online shoppers in search of men's wedding rings. When shoppers enter the site, they find an endless selection of men's rings in gold, silver, platinum, tungsten, titanium, cobalt and palladium, plus recently added designer collections of diamond, seranite and Argentium silver rings. While the popularity of some contemporary metals may still be in question, designer cobalt diamond rings have been on a steady rise since they first launched. They look and feel more luxurious than many industrial metals, and yet they are just as affordable.
Despite the fact that cobalt is a relative newcomer on the men's jewelry scene, other alternative metals have paved the way for their success. According to MWR owner Roy Devine, "Designer cobalt diamond rings take a good thing and make it even better. Our customers were already excited about how much cobalt looks like platinum and how strong it the metal is, but the addition of diamonds makes these designer rings look even more sensational." Mr. Devine explained that they are a little more expensive than some industrial metals, but they look so much more like a precious metal that his customers don't seem to mind.
Some of the factors that set designer cobalt diamond rings apart are their weight, brilliance and competitive price. Cobalt chrome is neither too light nor too heavy on the hand, and it has a brightness that is comparable to platinum. For men who have an allergic reaction to white gold, these men's rings are a hypoallergenic alternative. Its natural hardness allows cobalt to absorb sharp blows without scratching or denting.
For men who prefer a precious metal for a wedding ring but don't want to spend too much, designer cobalt diamond rings are the perfect solution. Because it is not a precious metal, cobalt diamond rings cost significantly less than most other designer rings and it doesn't even come close to the price of platinum. As more men look to cut costs by choosing less expensive wedding bands, designer cobalt diamond rings are a wise choice. MWR is pleased to offer a fabulous selection of cobalt wedding rings to match their customers' individual style.
About Mens-Wedding-Rings:
Mens-Wedding-Rings.com is a niche online jewelry store for men's wedding rings and bands. In this specialized retail environment, customers find the best quality men's traditional and alternative wedding rings. From major designer bands in traditional and alternative metals to non-designer rings in stainless steel, titanium, tungsten, sterling silver and cobalt, Mens-Wedding-Rings.com is a one-stop source for men's wedding bands and rings. Owners Roy and Judy Devine make it their goal to ensure their customers are completely satisfied, so they only sell high quality rings at excellent prices. All of their rings come with a 100% satisfaction guarantee, and their customers have come to expect the highest standards of service, selection and quality when they shop at Mens-Wedding-Rings.com. MWR offers the best selection of men's wedding rings on the Internet, many of which are available through size 20.
Contact information:
Roy & Judy Devine, Owners
Mens-Wedding-Rings.com
800.676.0363
http://www.mens-wedding-rings.com
Email: roy(at)mens-wedding-rings(dot)com
###