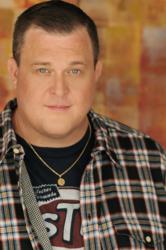 Napa, CA (PRWEB) February 22, 2012
Billy Gardell stars in the CBS hit television series "Mike and Molly" alongside Melissa McCarthy, which garners approximately 13 million viewers every week and was the number one new series in its debut year.
Gardell took the long road to Hollywood, stopping at every small town lounge, military base and comedy club along the way. His comedy act took him to Los Angeles where his dedication to acting, along with touring as a stand-up comedian, allowed him to grow consistently in both arenas.
His stand-up show is a powerhouse. His grounded, down-to-earth point of view strikes a strong chord with American audiences. Stories about his rough childhood, wild adolescence and new family life are executed with the skill of a master craftsman.
In 2006, Gardell's first comedy album, "Billy Gardell: Throwback," was released. Gardell continues to tour as a standup comedian. His new stand-up special, "Halftime," recently aired on to rave reviews on Comedy Central.
Billy also played the host of "Pizza Talk," an imaginary TV show, in commercials for Round Table Pizza. He co-starred in the critically acclaimed television series "Lucky." His other television credits include "Yes Dear," "Judging Amy," "King of Queens," "My Name is Earl," "The Practice," and "Monk".
He made his major motion picture debut alongside Anthony Quinn and Sylvester Stallone in "Avenging Angelo," and had a memorable scene with Billy Bob Thornton in the Cohen Brother's film "Bad Santa." He also appeared in "You, Me & Dupree." A native of Pittsburgh who currently lives in Los Angeles, Gardell loves Steeler football, stand-up comedy and his son.
Tickets for Billy Gardell are $37.00/$47.00 and can be purchased through the theatre website at http://www.uptowntheatrenapa.com, at Ticket master (http://www.ticketmaster.com) or at the theatre box office (please call (707)259.0123 ext. 6 for hours). For more information contact Marketing Director Mindi Levine 707-259-0123 extension #2
###