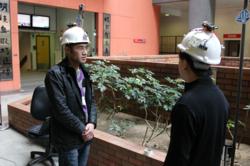 (PRWEB) February 23, 2012
With the sophisticated use of construction process simulation technology and positioning technologies such as GPS, researchers of The Hong Kong Polytechnic University (PolyU) have developed an integrated system which can uplift the standard of construction safety and enhance project efficiency.
This innovation is known as the "Proactive Construction Management System" (PCMS). It is developed by a dedicated team of researchers at the University's Construction Virtual Prototyping (CVP) Lab under the headship of Professor Li Heng of PolyU's Department of Building and Real Estate.
The development of PCMS has combined the use of Building Information Modelling on the project management side and the installation of GPS sensors at the helmets of construction workers on site. The application of information modelling has provided useful 4D model of the project in progress as a control platform. More importantly, the PCMS facilitates real-time tracking of the position of both workers and machinery. If there is any chance of collision, the system will automatically alert site workers of possible fatal blow by giving warning signal built-in with the helmets.
On the project management side, the PCMS will automatically compares the 4D model with site situation to smooth out the timing and cost performances of a large-scale construction project. With PCMS, project managers can now closely monitor the real-time progress of workers on their computers with remote control. They can also give orders to foremen / workers and correct their errors when they see any deviation about to happen.
"Traditionally, project managers have to be on site in person to make sure that workers finish their jobs on time and according to standard. The PCMS has reinvented the way that project management is done," said Professor Heng Li, who has received a first-class technological innovation prize from the Chinese Ministry of Education in recognition of his breakthrough.
The University's Construction Virtual Prototyping (CVP) Laboratory was set up in 2004 to support the further advancement of the virtual prototyping technology. PolyU researchers are now collaborating with the industry to put the PCMS to good use.
Press contact: Professor Li Heng
Department of Building and Real Estate
Tel: (852) 2766 5879
Email: bshengli(at)inet.polyu(dot)edu(dot)hk
# # #