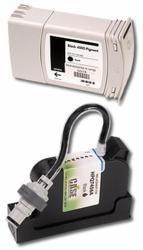 It's taken some good engineering work, but we are excited to be able to offer these compatible printheads.
Corvallis, OR (PRWEB) February 27, 2012
Case Printing Solutions announces the availability of black connector print head and bulk supplies that are fully compatible with HP-Inkjet technology based marking systems including the Q7456A and the Q7457A. The systems use fully compatible black-pigmented inks.
Since 2008, the company has been a low-cost, eco-friendly source of Original Equipment Manufacturer (OEM) and remanufactured HP 4500 Bulk ink supplies for the packaging, marking, and case printing industry. With the addition of the Q7456A print head assemblies, Case Printing Solutions now offers a complete alternative to HP branded supplies, lowering vendor costs, and creating an opportunity for one stop shopping.
About Case Printing Solutions:
Case Printing Solutions is entering its fourth year as a leading supplier of bulk ink supplies for Industrial Marking Systems (IMS). Case Printing Solutions delivers timely and efficient technical support for HPQ7457A Cartridges, and can also help with most printing questions. The Case Printing Solutions staff comprises of all former HP inkjet engineers and technicians each with more than 15 years of inkjet experience.
http://www.caseprintingsolutions.com
350 SW Wake Robin Ave. Suite 7, Corvallis, OR 97333 Phone: (541) 754-2273
HP are registered trademarks of Hewlett Packard. Case Printing Solutions is not affiliated with Hewlett Packard in any way, nor does Case Printing Solutions endorse any product of Hewlett Packard.
###