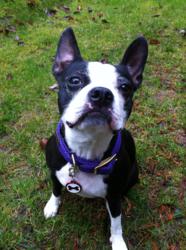 "We envision a day when every family dog or cat will be protected with a digital ID tag," said Tom Arnold, CEO and founder of PetHub.
Seattle, WA (PRWEB) February 23, 2012
PetHub (http://www.pethub.com), the company that provides the fastest and safest way to get lost pets home, today announced that Red Dingo (http://www.reddingo.com) has selected its patent-pending digital ID tag technology to include on its newest line of pet ID tags. Red Dingo, known for using high quality materials that are designed for durability and long lasting good looks, selected PetHub based on its unique ability to add Quick Response (QR) codes, GPS email notifications, shelter alerts, and consumer-friendly Web profiles to its stylish tags.
"We're in the business of creating amazing accessories for dogs and cats, but needed a partner with the right software expertise to help us add the latest and greatest digital ID technology to our tags," said Craig Chalk, CEO at Red Dingo. "With PetHub, not only do we get the best digital ID technology to identify pets, we also get to help our customers feel good that they can protect their pet."
With PetHub, anyone with a Smartphone can easily scan a QR-code on a pet's tag or use a unique Web address on the front of the tag to access a pet's critical information and immediately take proper action to help a lost or injured animal. The new Red Dingo tags will include a free PetHub account which will provide immediate, one-scan access to critical information such as emergency contacts, necessary medication, allergies, immunizations, vet and insurance providers, dietary needs, and much more. Pet owners can update the information anytime, anywhere from any browser or mobile device.
"We envision a day when every family dog or cat will be protected with a digital ID tag," said Tom Arnold, CEO and founder of PetHub. "Partnerships with quality manufacturers like Red Dingo will help us accomplish this even faster, ensuring that our beloved lost animals are never on the streets with only a name and number."
The new Red Dingo tags powered by PetHub are currently available at 50 designated retailers and will be completely rolled out in the United States and Canada by the summer of 2012. In addition to the retailers, the new tags can also be purchased directly on PetHub.com starting at $15.90 (USD). Red Dingo customers will receive free unlimited storage data as well as access to educational articles, relevant event listings, and local destinations added by the PetHub community and experts. Pet owners can upgrade to the Silver subscription ($3.95 per month or $39 per year) which not only helps owners notify local animal shelters if the pet gets lost but also sends owners an email with the exact location of where the tag got scanned with a GPS-enabled phone. The Gold subscription ($4.95 per month or $49 per year) includes all the benefits of the Silver subscription as well as a collectible PetHub ID tag each spring and $3,000 emergency insurance that covers the pet for injuries sustained while lost.
Special launch promotion for Groupon Members
As a special launch promotion from Feb 28 - March 5, Groupon members can purchase the new Red Dingo digital ID tags plus a one-year silver subscription service for only $14, which is more than 60 percent off the standard annual price. For more information, be sure to watch for next week's Groupon email that will arrive on Feb 28.
Global Pet Expo
If you'd like to see the new Red Dingo digital ID tags in-person, PetHub will be in Booth 3176 and the New Products Showcase at Global Pet Expo in Orlando, Florida from February 29-March 2, 2012.
About Red Dingo
Red Dingo (http://www.reddingo.com) is a young and progressive Australian company that was formed for the sole purpose of designing and marketing quality pet accessories. Red Dingo pet products are built to outlast any pet adventure. Like our namesake the Dingo, a bush dog native to Australia, Red Dingo products are robust in design to complement every pet's active lifestyle. The extra effort incorporated in the design, materials and quality of each Red Dingo product means we can guarantee with complete confidence that our pet accessories will outperform all others. At Red Dingo, "near enough simply isn't good enough."
About PetHub
PetHub, Inc. (http://www.pethub.com) is focused on getting lost pets home faster and safer than ever before by utilizing current and new technologies, including QR code pet ID tags, GPS mapping, and real-time notifications. PetHub's products and services were recently recognized in the December 2011 issues of both Dog Fancy Magazine and Pet AGE Magazine, where the company was honored with an "Editors' Choice Award" as well as a "Silver Seal Retailer Select" award. The company has multiple software patents pending. Facebook users can become a PetHub fan at http://Facebook.com/PetHub or follow updates at http://Twitter.com/PetHub. See also a recent YouTube video: http://www.youtube.com/watch?v=IjR4YJbuabs.
PetHub and their respective logos are trademarks, registered trademarks, or service marks of PetHub. Other products and company names mentioned are the trademarks of their respective owners.
# # #