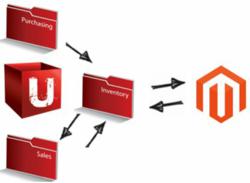 The Unleashed Magento connector is really awesome and can take care of all types of products we have in our store including bundled products
(PRWEB) February 23, 2012
Unleashedsoftware.com, the leading vendor for SaaS inventory management have released the complete back end inventory solution for Magento Community and Magento GO users. Gareth Berry – CEO for Unleashed says "being featured by Magento on their marketplace is testimony to the development work and customer feedback for this powerful integration."
Unleashed's core system focuses on the business to business sector with manufacturing & wholesale distribution requirements. "This makes Unleashed a very powerful choice to manage inventory with Magento" says Berry. "Many of our customers already using Magento to offer be-spoke or made to order goods use Magento's bundle functionality at the customer end and Unleashed's manufacturing / production order management in the back. The solution end to end is seamless."
One of these customers "Nina Young" has been using the Unleashed / Magento integration for 12 months.
"The Unleashed Magento connector is really awesome and can take care of all types of products we have in our store including bundled products, where we sell outfits comprising of separate items/SKUs. We think it is unbelievable value for the small business owner, because the Magento connector is absolutely free of charge. We thoroughly tested a few different inventory management systems before settling with Unleashed and we were able to get it set up very quickly and it had some fabulous features that we hadn't seen in other systems we had just tested We couldn't find any limitations in Unleashed which caused any problems for us and soon after testing began it was a quick and easy decision to confirm we would continue using it. We could even set up different tax rates for different customers, which we needed to do as we operate out of more than one country."
In the US, approximately 42% of all online sales relate to the manufacturing sector (according to the U.S. Census Bureau). The opportunity for SME's like Nina to gain huge efficiencies through integrated stock management into frontline online sales is huge.
Pete "Stickerguy" Menchetti from Slovenly Recording Studio is another adopter of the integrated sales and inventory management solution. "I use Unleashed with Xero, and now that I've integrated Unleashed also with Magento, I truly have "an online store, offline sales, and accurate accounting data all in real time and all online". It's the best solution I've found for my business of running a record label. I can track inventory down to the part, with multiple warehouses, multiple currencies, and the most accurate cost analysis reporting I've ever seen for my company! The Unleashed staff has been a great help getting started."
Brief History
Unleashed Software Limited was founded in December 2009 to provide SME's strong inventory management solutions through multi-sales channels. Trusted by over 3500 companies around the world, Unleashed solves the issue of inventory management processes across multiple sales channels. Unleashed Software is delivered 100% in the cloud and is one of the industry's fastest growing cloud service companies with very tight integrations with SaaS accounting software Xero and the Magento ecommerce platform.
###