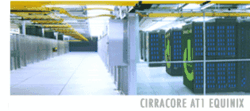 This presentation will examine the convergence of technologies and provide a comparison in cloud functionality and use cases
Atlanta, GA (PRWEB) February 23, 2012
Cirracore is pleased to announce that Fred Tanzella, Cirracore's CEO will be speaking at the Datacenter Dynamics Converged event in Atlanta. Fred Tanzella will be speaking on "Selecting the Right Cloud" to give an overview on various categories and vendors of cloud and how to select the cloud that meets a business's requirements.
"Cirracore has enjoyed tremendous growth in the enterprise cloud market with our cloud solutions as a part of Platform EquinixTM and more recently with Telx Cloud Xchange, providing three tiers of cloud solutions that include a multi-tenant pay-for-capacity on-demand cloud, an enterprise cloud with dedicated resource pools, and private clouds for both large enterprises and the SMB market," stated Fred Tanzella, CEO of Cirracore. "This presentation will examine the convergence of technologies and provide a comparison in cloud functionality and use cases."
Presenters at the conference include specific industry experts from Nokia, HP, VeriStor Cox Communications, UPS, Siemens and T5 Data Centers.
About Cirracore
Cirracore is a global provider of managed enterprise, private and hybrid cloud solutions for mission critical applications that allow enterprises to scale operations while reducing costs and IT infrastructure support.
Cirracore has rapidly become one of the most respected high performance cloud hosting companies in the industry serving a global enterprise customer base. Cirracore has partnered with premier companies that are leaders in their respective industries to provide best in class service to our customers. Visit Cirracore to learn about cloud hosting at http://www.cirracore.com
###