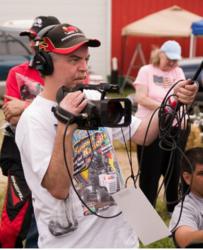 This movie will showcase the unique culture of lawn mower racing and how our people band together to help battle a horrific disease." – Bruce Kaufman "Mr. Mow It All" USLMRA Founder & President.
Washington, DC (PRWEB) February 24, 2012
On Your Mark, Get Set, MOW! has been officially selected to screen at the 2012 DC Independent Film Festival, Saturday, March 3, 2012, 5:00pm. The documentary film which will make its world premiere, will explore the world of lawn mower racing through the eyes of a Michigan family who has lost six members to Huntington's disease and uses the sport to raise awareness of the disease and funds for its research.
Filmmaker Mike Ratel has been following the sport of lawn mower racing for five years and will tell the story of how weekend "Turf Warriors" use their hobby to help raise awareness and funds to battle Huntington's disease, a hereditary degenerative neurological disorder. Ratel has received support and "mowtivation" from the U.S. Lawn Mower Racing Association, http://www.letsmow.com and other sanctioning bodies, racing groups and friends during his filming journey across America.
To offer an explanation of Huntington's disease to a general audience Producer/Director Ratel has conducted on-camera interviews with medical professionals, US congressmen, Huntington's disease advocates, and Arlo Guthrie who lost his father Woody Guthrie, an American folk music icon, to the disease in 1967. Ratel has also spent hundreds of hours filming, traveling and living with lawn mower racers from across the country to gain a solid understanding of the people behind the sport.
"This group of people is one of the most benevolent and kindhearted communities you'll ever see," said Ratel from his Washington, D.C.-based production studio. "The family we focus on in the film has lost seven members to the disease, but still finds time to travel the country racing lawn mowers, enjoying life and helping create awareness. Their annual lawn mower race fundraiser is an award-winning event that has gained acclaim far and wide. I'm proud and honored to be telling their story."
Now in its 20th season, the US Lawn Mower Racing Association (USLMRA) is a national governing body for the sport of lawn mower racing. With chapters and members across America, the organization works to establish rules, schedule races, promote the association and its sponsors via media opportunities, as well coordinate efforts with race day partners such as the Michigan chapter of the Huntington's Disease Society of America. The USLMRA sanctions the STA-BIL Fuel Stabilizer Lawn & Garden Mower Racing Series, which includes the annual STA-BIL Race For Huntington's Disease Research in Sparta, Michigan the third weekend every July.
The DC Independent Film Festival is Washington DC's oldest independent film festival. By exhibiting world premiere screenings, hosting timely seminars and workshops, and sponsoring discussions with the United States Congress, DCIFF gives independent filmmakers opportunities for their voices to be heard in a way that no other festival can provide.
A Grand Rapids Press article about Ratel and the documentary was distributed by the Associated Press in 2009 resulting in radio, Internet, and newspaper coverage across the US. In 2009 Docs in Progress selected the trailer for On Your Mark, Get Set, MOW! as one of five documentary trailers to be included in an evening of trailer screenings.
The web site for On Your Mark, Get Set, Mow is http://www.mowermovie.com/
###