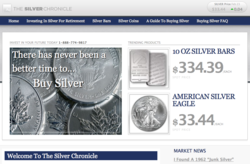 Tempe, AZ (PRWEB) February 27, 2012
Full Speed Marketing is proud to announce the launch of their new precious metals website, The Silver Chronicle. After initially helping friends learn how to diversify their portfolio, Josh Ziering, Chief Creative at Full Speed, decided to start a website about his hobby.
As demand for his time and knowledge increased, Ziering decided it would be good to centralize some of the more common elements of his advice. He diverted resources from his Phoenix advertising agency, Full Speed Marketing, and started The Silver Chronicle. There he outlines for beginners the concepts they'll use to buy silver online.
"One of the things that most people found particularly difficult was the amount of jargon and tribal knowledge associated with the precious metals sector. It's only in a sector like this where people talk about 'ounces' and they don't mean the standard American ounce, but the 'Troy Ounce' which is actually heavier."
Ziering decided to focus the website on Silver since that's the precious metal with which most people can afford to start immediately.
"The cost of investing in Silver is much less prohibitive than other metals, and it carries almost all of the same benefits," he said. "It's much harder to buy an ounce of gold for $1,800 than it is to buy a 1 oz. American Silver Eagle for about $35"
Ziering says that learning to invest in precious metals isn't that much different than learning to speak another language. His website features a section where users can look up all the associated vocabulary, and guides for learning to buy silver coins, bars or "rounds." There is even a section to help people add precious metals to their retirement portfolio.
###