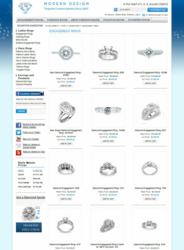 we have a real pulse of what's hot right now in engagement ring designs
Los Angeles, CA (PRWEB) February 24, 2012
Modern Design, a retailer and manufacturer of all kinds of diamond jewelry has just announced 30 new engagement ring designs on their website. They are based in the downtown Los Angeles jewelry district.
"Many of our designs are based off the newest trends in engagement rings" says Eric Seropyan, owner of Modern Design Inc. "Since many of our designs are custom made, with customers bringing in anything from pictures or a simple drawing, we have a real pulse of what's hot right now in engagement ring designs."
Modern Design Inc. is family owned and prides themself in providing personal service from manufacturing their jewelry in-house, to having a certified gemologist to answer any question you may have about selecting the right diamond for a jewelry piece. This combined with upwards of 70% lower prices than what people would find at larger jewelry retail store chains is what is driving many customers to Modern Design Inc and similar stores. For those looking for engagement rings Los Angeles Jewelry District and Modern Design provides a wealth of selection.
Modern Design Inc. has been in business since 1978 selling their fine line of engagement Rings both wholesale to retail stores around the United States and has in the past year started selling direct to customers through their retail showroom based in the heart of the Downtown Los Angeles Jewelry District at the same wholesale prices.
###