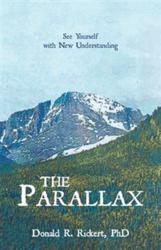 Belleville, IL (PRWEB) February 24, 2012
The new self-help book "The Parallax: See Yourself with New Understanding" (published by Abbott Press), by Donald R. Rickert, Ph.D., tells a story of restitution and forgiveness that reveals a strategy for improving personal effectiveness, delivered with the clarity and straightforwardness of "Who Moved My Cheese" and "The One-Minute Manager."
The most unique aspect of "The Parallax" is its combination of real-world advice alongside fictional characters. Drawing on his experience in both organizational behavior and leadership, as well as his skill in crafting fiction, Rickert creates a story that is both educatory and entertaining.
Embracing one of the basic tenets of fiction writing, "show, don't tell," Rickert uses his fictional examples to make his points. "Instead of talking about the positive therapeutic outcomes of expressive writing in a static textbook presentation," Rickert notes, "'The Parallax' engages readers to experience the process as they read the book, revealing a strategy for improving personal effectiveness."
"I wrote 'The Parallax' because I realized a short story that I had been working on was serving a therapeutic purpose for me," Rickert says. It is his hope that other readers – and writers – can come to find that same therapeutic catharsis with the guidance he offers.
Teachers and researchers, book bloggers, even those only looking for hope or the chance to bring positive change to their lives will all find something of use in "The Parallax."
About the Author
Donald R. Rickert, Ph.D., resides in metropolitan St. Louis, Missouri, where he is a professor at St. Louis College of Pharmacy and an adjunct professor at Washington University School of Medicine's Health Behavior Research Division. His teaching and research focuses on managing change and improving personal effectiveness. His most recent work includes helping people discover the positive outcomes that can be achieved by accessing and writing about buried emotions that diminish our personal and professional successes.
Abbott Press, a division Writer's Digest—the oldest and most respected publisher devoted to the education and advancement of writers—is an indie-publishing imprint dedicated to helping writers bring their literary vision to print. Author Solutions, Inc., a leader in indie book publishing, will fulfill publishing, sales, and marketing services for Abbott Press. For more information, or to begin publishing a book today, log on to abbottpress.com or call 866-697-5310.
###