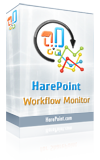 (PRWEB) February 24, 2012
In major companies with a well-developed IT-infrastructure, hundreds or even thousands workflows of different complexity levels and various execution frequencies may exist and operate at Microsoft SharePoint platform. Failures in these workflows execution resulting from software and hardware problems may paralyze the well-functioning schemes of interaction between the departments and the personnel. SharePoint administrator should evidently possess the fullest possible information both for the current status of all the workflows within the organization, and the data for analysis and prevention of potential problems.
HarePoint Workflow Monitor has been developed to control the status of the workflows and manage them.
Using the product the administrator may easily obtain the information as for all active workflow instances or workflow associations at the level of the firm, web-application, sites collection, site or the list.
Another crucial task to be solved with this product is search for workflow errors and bottlenecks. Having the detailed information about each step of workflow execution, one may immediately trace a problematic spot, find out the reason of the fault, and repair it.
In addition to that, the following key features of HarePoint Workflow Monitor are:

storage of statistic information as for workflows execution for a long period, and advanced feature of their visualization with graphical charts;
a powerful system of filters, grouping and sorting enables fast and convenient analysis of required needed.
HarePoint Workflow Monitor is fully compatible with Microsoft SharePoint 2010.
A free 30-day demo-version of HarePoint Workflow Monitor is accessible for downloading from the product homepage.
###