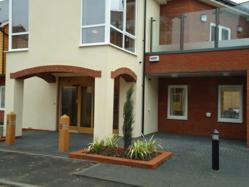 Matron, Sarah Harper is pleased. "The door control has been absolutely brilliant. The staff have found it easy to use."
(PRWEB UK) 25 February 2012
Local security and fire alarm company, Oakpark Alarms, has just installed a swipe card security access system in a newly built 60 bed care home at Sturminster Newton for Colten Care.
Having supplied and serviced alarm systems for Colten Developments over several years, Oakpark was asked to provide secure access systems for its new care home in Sturminster Newton. The swipe card system has been designed so that only those authorised are able to enter specific areas within the premises. Equally, residents with different needs can feel safe in familiar surroundings.
Matron, Sarah Harper is pleased. 'The door control has been absolutely brilliant. The staff have found it easy to use. We are able to issue access cards to visitors immediately they arrive, which are time and area limited, so we are able to maintain a high level of safety for our residents.'
Harvey Baker, Colten Care's Purchasing Manager, explained the thinking behind this approach. "Oakpark's team installed a keypad access system in our home in Fernhill, and it was very successful. Now we have upgraded to a swipe card system - it's more flexible, less institutional, and looks professional. The whole project was completed on time and the system works well. Our staff were well trained, and all the user issues were dealt with quickly and efficiently. With different areas in our homes for residents who need varying levels of care, each swipe card can be programmed to allow the right level of access."
He continued, "We know that Oakpark provides a good out of hours back-up service, which is essential in such a sensitive environment. It has all gone very smoothly, and we are pleased to be putting the same system into our new specialist dementia home in Winchester."
Oakpark Alarms is a leading supplier of fire and security systems for Dorset, Wiltshire, and Hampshire. Established for 26 years, the company employs a staff of 11 based at its offices in Three Legged Cross, Wimborne, Dorset.
This family run business provides a 24/7 backup service, and has installed and maintained more than 8000 systems for both domestic and commercial customers.
Services include:
Burglar alarms
Commercial CCTV
Fire alarms
Access Control systems
Oakpark Alarms is the South of England agent for DSPA (Dry Sprinkler Powder Aerosol). and is BAFE registered (SP203 scheme) - the independent third party registration body for the fire protection industry. Oakpark Alarms is certified by the Security Systems and Alarms Inspection Board (SSAIB), accredited to UKAS 0131 and registered with the Fire Industry Association.
# # #