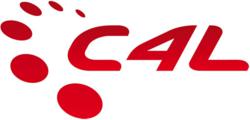 (PRWEB) February 23, 2012
Leading colocation and data centre provider C4L is attending Data Centre World Conference and Expo at London's Olympia, and will be at stand D40. The event is the UK's largest exhibition and conference for data centre managers, distributors and channel partners.
This year C4L will be showcasing their Terabit capable network which connects 40+ data centres including their soon to be launched Bournemouth data centre, which once complete will be one of the largest facilities in the South West.
The Bournemouth data centre will feature N+1 redundancy on power and cooling, as well as backup generators which will take the full load. Riello will provide high energy efficiency via uninterruptable power supply (UPS) systems, whilst Airedale is to provide the site's cooling systems. Very Early Smoke Detection Apparatus (VESDA) supplies full smoke, fire detection and fire suppression systems. The building's air conditioning will use direct expansion based cooling technology coupled with C4L's cold aisle cooling practises to ensure maximum efficiency.
Matt Hawkins, managing director of C4L commented: "We're looking forward to attending this year's exhibition and showcasing our Bournemouth data centre as well as our leading network connectivity services. The Bournemouth data centre is an exceptional colocation site which benefits from low latency and excellent resilience as it's connected to our private network, making it an ideal outside of London colocation facility."
The Bournemouth data centre, once completed, will be able to offer colocation space; including quarter, half and full racks up to 32 amps dual feed. To find out more about the services that the Bournemouth data centre can offer, and to meet the C4L team, visit stand D40 on either 29th February or 1st March.
About C4L
C4L is an internet infrastructure solutions provider and deploys a full range of services in over 40 data centres, including colocation, IP transit, interconnects, data backup, data storage, virtualisation, telecoms, disaster recovery and leased lines, to name just a few. These are all provided with C4L's commitment to maximum uptime and customer support; featuring a 24/7 network operations centre (NOC) which is manned by trained professionals with Microsoft and Cisco qualifications.
C4L's industry leading data centre connected network, includes sites such as Bournemouth, Slough, BlueSquare Maidenhead, BlueSquare Milton Keynes, Telehouse Metro, Telehouse North, City Lifeline and InterXion.
The company is now in its 11th trading year and with a track record of 100% growth every year its client base includes Government, FTSE 250, financial institutions and many of the UK's network carriers. The business is committed to customer satisfaction and quality of service and has achieved certifications such as ISO9001 & 27001.
###