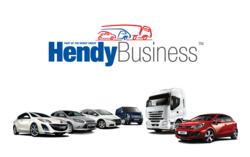 (PRWEB UK) 23 February 2012
Hendy Business has launched its new look website http://www.hendybusiness.co.uk with brand new features to ensure current and potential customers can track down the right fleet vehicle by manufacturer, model, funding options and emissions.
The Hendy Business website, launched in February 2012, gives fleet customers an easy way to find the right fleet vehicles for the business. With over 100 vehicles to choose from, making a decision about fleet vehicles has never been easier. Ford, Kia, Honda, Mazda and Iveco are all available with many great monthly deals.
Additional investment in the fleet website with added functionality, confirms Hendy Business as one of the leading providers of quality fleet vehicles in the UK.
Customers can benefit from the new vehicle jargon buster. Confused by the ACRISS code, the difference between contract hire and lease purchase? Type in the jargon and the jargon buster will give a simple explanation.
With the continued rise in fuel costs, the fuel cost calculator available on the Hendy Business website gives the perfect opportunity to see how a new fleet vehicle can save a business money. By simply adding in a current fleet vehicle's 'miles per gallon', the calculator will work out if a new fleet vehicle will save money for the business in fuel. The fuel savings will be shown by month and year for a really accurate figure for the business.
Many businesses are concerned by the effect that fleet vehicles have on the environment. The Hendy Business website offers a service to work out how 'green' a vehicle or fleet is. By filling in the online 'Go Green' form, a Hendy Business green specialist can respond and advise on how to make a fleet more environmentally friendly.
Dedicated to providing customers with ongoing support and latest product news – customers can subscribe to free regular product updates and news, share products and deals via social media such as Twitter and Facebook and receive personalised quotations, all just a click away from Hendy Business.
For more information about Hendy Business, part of the Hendy Group, contact Digital Marketing Manager Nic Jones on +44 (0) 23 80271 271
-Ends-
Information for Editors:
Hendy Group Ltd
Chandlers Ford Industrial Estate
School Lane
Eastleigh
Hampshire
United Kingdom
SO53 4DG
Telephone: 023 8027 1271
Fax: 023 8062 7539
Hendy Group Ltd is a premier family motor group with around 20 premises stretching across southern England from Devon to West Sussex.
Hendy holds Ford, Mazda, Kia and Honda franchises, plus Ford, and Iveco van and truck franchises. The company handles all aspects of sales, servicing, parts, hire, accident repairs and Rapid Fit. Specialist operations include engine dynamometer testing, fuel injection testing and repairs, as well as engine sales to the construction and marine industries.
Hendy was founded in 1859 and whilst having grown to a company of significant geographical and economic size, the Hendy Group remains a closely-knit family concern. Currently, both the Chairman and Deputy Chairman are great-grandsons of the company founder F.A. Hendy, with the next generation of sons and daughters within the company structure ensuring the continuity of the family business.
Throughout the company's history, the Hendy family can be said to have followed good business practice by grasping opportunities as they've appeared, and reviewed operations in order to remain efficient. Above all, the Hendy family has always been careful to continue to meet the needs of customers, ensuring that they enjoy the best service and attention at all times.
###