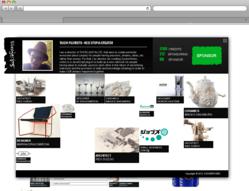 You will see why 2012 won't be like '2012'
(PRWEB UK) 29 February 2012
What is Suckerfishes? Well, Suckerfishes is a website plug-in that can be added to any existing website to build and expand new networks among people, such as entrepreneurs and creatives, who have interesting ideas. Members can mutually sponsor each other's idea in return for advertising and the provision of skills and knowledge. It is the perfect platform to get financially supported via crowdfunding and a great opportunity for their ideas to be promoted as much as possible by other users at a competitive rate (from £10 or so). Suckerfishes is a new revolutionary form of crowd-sponsoring platform.
Why will Suckerfishes help bring an end to capitalism? On Suckerfishes, unlike currently-existing communities under capitalism, there will be no gap between members on Suckerfishes. The only important factor here is the "idea" a member has. Anyone and everyone can have an idea. Respect the idea, support the idea, promote the idea, realise the idea! Why not sponsor each other's interesting ideas to make them all a reality together. Don't kill the creativity but put your interesting ideas into practice!
Fancy a Suckerfishes membership? If people register on Suckerfishes now, as early-adopters, they are offered a special campaign; there´s no limit to sponsoring each other's ideas (small advertisement only). As part of this special campaign, anyone can join and sponsor. This is an opportunity to start bringing the ideas to fruition! Give a chance to promote the ideas as well as discover other interesting ideas. It is now free. Come and join Suckerfishes to get a life started with your ideas.
A new way of life has been invented. The gap between rich and poor, which has been created by capitalism, will no longer exist. TWOPLANTON have created a new social system, "The Value-Based System", called "Suckerfishes". It is now live. Please join and register. Let's start enriching a life with own interesting ideas. Follow on Twitter @Suckerfishes for further information and updates. Looking forward to your participation and sharing in their success.
###