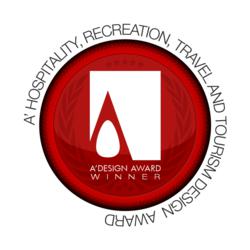 The award is given to excellence in design within the hospitality, recreation, tourism and travel sectors.
Como, Italy (PRWEB) February 24, 2012
Today, A' Design Award & Competitions announced a new design award category: Hospitality, Recreation, Travel and Tourism Design Award, which is a unique design competition open to submissions of offerings, venues and services design in the hospitality, tourism, recreation and travel businesses worldwide.
The award will only be given to institutions which demonstrate a very high level of excellence in design within the hospitality, tourism and travel sectors. Well-designed venues such as hotels, restaurants, theme parks, entertainment centers and bars will be eligible in addition to the offerings and other services such as cruise lines, airlines and tour offerings can apply for the award. Unlike other hospitality awards, the focus is not on the "luxury" but rather on the "design and quality" content of offerings and services provided.
The award is divided into two main categories and many sub categories. Travel & Tourism Design Awards such as the "World's Leading Destination for Arts" is oriented towards cities and locations, while Excellence in Hospitality Design Awards like the "Innovation Award in Tourism" are for institutions who have come up with a highly innovative services in tourism sectors.
Any institution who would like to highlight their offering in the hospitality sector can join the award. Different than other A' Design Award categories, a shadow customer will also visit the applicant venues, and participating institutions are expected to cover the shadow customer's accommodation and transportation fees in addition to the 375 Euro application fee. Furthermore, applicants to the Hospitality, Recreation, Travel and Tourism Design Award are expected to present a brochure of their offerings, together with several images of the offering and a video advertisement.
Entries to the award are judged mainly on five criteria that checks points such as Originality, Consistency, Innovative Content, Operational Structure and Involvement. Details and explanations of these awarding criteria can be accessed from the hospitality design award category page at adesignaward.com.
The award was conceived to attract the attention of hospitality media and design oriented travelers to well-designed travel and tourism business by means of creating publicity and dissemination. Winning entries will receive free communication and publication services from A' Design Award in addition to the award trophy, certificate, badges, logo and other services that are provided to award winners.
Unlike any other awards in hospitality sectors, winners are not obliged to make any further fees for winning the award and everything listed in the winners benefits page at adesignaward.com will be provided free of charge. Prospective participants can apply online at adesignaward.com.
About the A' Design Award: The A' Design Award & Competition is an annual international design award and competition aiming to highlight design oriented services, products and offerings. A' Award present its winners with publication and advertising opportunities.Further information about the award can be accessed from: whatisadesignaward.com.
###