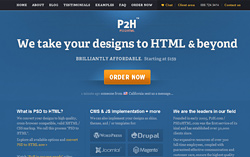 (PRWEB) February 23, 2012
PSD2HTML.com, the leading provider of PSD to HTML conversion, announces the return of the Basic Package.
If you're looking for a service that will provide you with quality design to HTML/CSS conversion, it's your lucky day.
Not only does PSD2HTML offer great service, there is also an affordable package, available only for a limited time. 
Since 2005, PSD2HTML.com, the leader in PSD to HTML conversion, has been providing superior service to website owners and creators by converting graphic Web designs into HTML and CSS compatible with all popular browsers.
It is crucial to properly implement new website designs so that browsers and search engines can read them. This is why designers and website owners who care about the proper conversion of their Web design files turn to PSD2HTML.com. Additionally, PSD2HTML's services can eliminate the tedious work of converting PSD designs into HTML, saving web designers more time for doing what they love.
The $99 Basic Package offered by PSD2HTML.com includes key options such as cross-browser/platform compatibility, W3C validated markup, and table-less coding. Delivery time is 3 business days for the first page and 1 day per additional page. With the Basic Package, any new website can be converted from PSD to HTML in a very short time. PSD2HTML.com can also fully implement the new website, include JavaScript, or provide additional services at their standard rates. PSD2HTML's highly skilled developers, experienced managers, meticulous testers and live chat support are all part of every PSD2HTML experience, providing customers with the highest-quality service possible. 
The PSD2HTML.com Basic Package with $99 first page and $49 for each additional page is only available through March 7, 2012. Visit PSD2HTML's Order Page for additional details on the Basic Package.
About PSD2HTML.com 
PSD2HTML.com provides fast, high-quality conversion of graphic Web design into Hypertext Markup Language (HTML) and its extensions, as well as skins / themes / templates for various Content Management Systems (CMS). The company accepts source files in all common formats, including PSD, PNG, AI and even HTML (existing markup). Founded in early 2005, PSD2HTML.com was the first service of its kind and has more than 60,000 clients to date. The company employs more than 300 professionals, ensuring the highest quality for each and every project.
###