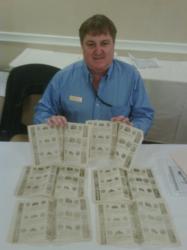 The show is free and potential sellers can bring as many items as they like
Atlanta, GA (PRWEB) February 24, 2012
Newton Massachusetts provided the latest unique find for Great Estate Roadshow.. An older gentleman arrived with uncut sheets of currency from 1839. According to the seller, 40 years ago he was performing a demolition job on a 100-year-old home and discovered these uncut 1839 currency sheets issued by Farmers Bank of Virginia buried in a container under the driveway. In the 1800s, there wasn't a Federal Bank rather banks, merchants, utilities and individuals issued money. By the Civil War there were over 1,600 different currencies throughout the United States—some were counterfeit. In 1861, Congress once again authorized the printing of money, and the Secret Service was created in 1865 by President Abraham Lincoln to monitor counterfeit activities.
Great Estate Roadshow is the largest purchaser of gold, silver, antiques and collectible items in the United States. Great Estate Roadshow is now in Chicago, Illinois; Fort Wayne, Indiana; Boston, Massachusetts; Tulsa, Oklahoma; and Portland, Oregon from Friday, February 24th through Saturday, February 25th, seeking to find a similar unusual item to add to their acquisitions.
According to Great Estate Roadshow's Howard Klotzkin, "In each city—small or large—a person comes in with an item that he or she believes is not worth much; however, because of Great Estate Roadshow's extensive list of collectors throughout the country, the item is worth much more. The customer leaves happy with more money than expected."
The Great Estate Roadshow is looking for Civil War items, vintage jewelry, Indian head pennies, antique purses, sterling silver flatware, pre-1930s toys, gold jewelry like charm bracelets and class rings. Silver coins, especially those made before 1964, gold coins, Kruggerands, gold bars, mint sets and proof sets are cherished by coin collectors and for their metal value, Klotzkin said.
"The show is free and potential sellers can bring as many items as they like," said Klotzkin. Visit http://www.greatestateroadshow.com for more information.
###