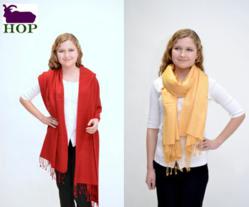 Pamper Yourself In Style
Greater New York Area, NY (PRWEB) February 25, 2012
Home Of Pashmina, the New York area based retailer of HOP Cashmere branded Premium Pashminas and Designer Scarves, announces the availability of Spring 2012 Collection. The Spring Pashminas are made with silk and cashmere blend that keeps the person warm during the slight chill of the unpredictable spring evening while the chic design of silk and its weaves in bright spring colors makes a fantastic accessory to any spring dress.
"The Spring Pashmina collection is particularly suited to warm and cold weather fluctuations that we mostly face during Spring. The blend of silk with fine cashmere makes for a soft and elegant feel around the neck while for a cold evening same scarf becomes a warm wrap. We have launched nice spring colors in various weave varieties. We are sure customers will enjoy this variety in this Spring season," says Anu C, the president of Home Of Pashmina.
This collection will be offered to customers via the selected resellers and boutiques throughout USA and is also available on the website of Home Of Pashmina, the Pashmina line of HOP Cashmere label.
HOP Cashmere brand continues to grow in popularity and now offers two distinct varieties of scarves – the traditional Pashmina collection - Home Of Pashmina which is the high end solid colors and weaves Pashmina collection made with fine cashmere and silk, and the new designer collection – Arte Della. HOP and will soon be launching more varieties of Designer Pashminas and Scarves so stay tuned for more such announcements in 2012 and meanwhile - "Pamper Yourself In Style".
About HOP Cashmere
HOP Cashmere is a New York area based Cashmere Pashmina Design/Import House with online presence as Home Of Pashmina and Arte Della and its products are available in various boutiques in USA . Anu C – The owner of HOP Cashmere brand and President of Home Of Pashmina has many years of experience as merchandiser in a apparel manufacture and export company. Anu has also appeared in New York Area magazines as a upcoming women entrepreneur and a Pashmina lover.
For more information about HOP Cashmere and Arte Della or to order a press kit, please contact:
Anu Chandwani
Telephone: 800-757-2297
Email: ac(at)homeofpashmina(dot)com
Online: http://www.HOPCashmere.com and http://www.ArteDella.com
###