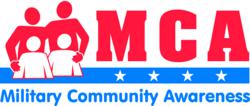 Woodbury, NY (PRWEB) February 27, 2012
Military Community Awareness features hundreds of innovative, expert-created materials designed to help assist military families. With this new 2012 catalog products have been created with the goal of providing service members and their families with the necessary information and resources.
The new catalog also features information about MilitaryFamily.com. MilitaryFamily.com is a non-profit, sponsored by MCA. MilitaryFamily.com is a community website designed to connect military families with a system of current and relevant resources. The website empowers military families while improving quality of life through community, guidance, and support. Membership is free and provides full access to articles, news, forums, videos, downloads, apps, and more.
With the new catalog readers will also learn about Operation Reach Out, a free military suicide prevention mobile app. Military Community Awareness introduces Operation Reach Out, a smartphone app aimed at preventing suicide among military personnel and veterans. Developed by a team of suicide prevention experts, under the supervision of the primary author, Lawrence Shapiro, Ph.D., the app is available free on the iTunes App Store and the Android Market.
MCA is a brand of The Guidance Group and provides innovative products for Family Support and Service Centers, Family Advocacy Programs, Youth and Child Development Programs, Drug Reduction Staff, Chaplains, schools, and others assisting military families worldwide.
###