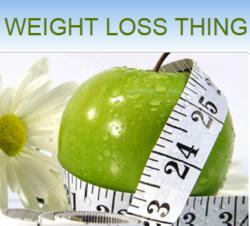 "We all know that eating right and exercising can bring you new vigor and energy"
Atlanta, GA (PRWEB) February 23, 2012
Online weight loss blog Weight Loss Thing (http://www.weightlossthing.com) announced today that all new subscribers will receive a free copy of The Top 10 Weight Loss Tips for Best Results when signing up to receive a free subscription to site updates. The weight loss tips range in scope from dieting suggestions to exercise ideas and each item is aimed specifically at those currently on or seeking a weight loss plan.
The Top Ten Weight Loss Tips include suggestions for dieters on topics like hydration, portion control and workouts, all of which are crucial elements of success for any weight loss plan. Recommendations like "Don't make your diet another burden. Enjoy your favorite food and don't feel guilty," are expected to be popular with new members looking for ways to lose weight without drastically altering their lifestyle.
Weight Loss Thing's new resident expert, Crystal Ames is a registered personal trainer and is credited with creating the downloadable Top Ten Weight Loss Tips. Crystal is also a professional health and fitness writer who is an expert on healthy eating and exercise. "We all know that eating right and exercising can bring you new vigor and energy," says Crystal. She specializes in diet and product reviews and weighs in regularly with views on exercise and eating on WeightLossThing.com.
WeightLossThing.com was conceived by Suzana Rowland, frugal fashion blogger and creator of Zlittle.com Saving with Style. She began the site as a helpful motivation tool during her own struggle with weight loss and has watched it evolve over the past four years into a fully-fledged destination for inspiring those with a similar struggles.
"A few years ago I asked a my husband if I was fat," says Suzana. "He gave me a painfully honest answer and I knew I had to make some changes... that was the beginning of my weight loss journey." Suzana maintains that she follows a flexible diet plan and exercise regimen and works hard to keep off the weight she's lost since beginning the site.
To download a copy of Weight Loss Thing's list of Top Ten Weight Loss Tips for Best Results simply register for free updates at http://www.weightlossthing.com/.
About Weight Loss Thing:
WeightLossThing.com was launched in 2008 with the goal of helping readers explore fun, effective ways to lose weight and keep it off. Suzana Rowland and other diet and fitness enthusiasts contribute to their inspiration to the site which features videos, blog posts and professional reviews designed to educate readers on diet and exercise strategies.
###