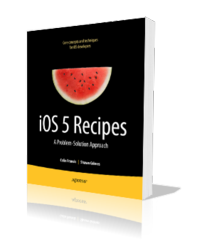 Learn how to make your apps stand out.
New York, NY (PRWEB) February 23, 2012
With iOS 6 looming on the horizon, many developers are still trying to become experts with iOS 5 so that when that day comes they can hit the ground running."iOS 5 Recipes: A Problem-Solution Approach" is the go-to guide for developing apps on iPad, iPhone, and other iOS 5 devices and platforms. Many experienced developers have run into challenges when creating their apps for the Apple market and this book provides detailed and precise explanations for hands-on solutions.
"iOS 5 Recipes: A Problem-Solution Approach" offers numerous real-world examples that will enable them to build fully functional applications quickly and efficiently. It features a variety of code examples ranging from core concepts, such as building basic applications, to the newest additions to the Apple operating system, such as including Twitter integration and image filtering. Authors Shawn Grimes and Colin Francis walk readers through a variety of "recipes" that help developers build truly outstanding apps.
Each recipe is accompanied by a thorough explanation of its methodology and is meant to provide readers with a wealth of knowledge when developing their own mobile applications. "iOS 5 Recipes: A Problem-Solution Approach" covers: working with Interface Builder in the latest version of Xcode, building applications that incorporate animation and multimedia, building location-aware apps, and understanding the best practices for application design and development. This essential resource is geared towards the intermediate level and expert level developer who has some familiarity with the Objective-C programming language.
"iOS 5 Recipes: A Problem-Solution Approach" is the guide for iOS developers who want to make their app stand out; enhance their gaming apps with GameCenter; make their apps more powerful with the latest Xcode; and extend their apps with Table View, UIView, and core graphics.
To learn more "iOS 5 Recipes: A Problem-Solution Approach," visit http://www.apress.com/9781430240051

ISBN13: 978-1-4302-4005-1
*616 Pages
*User Level: Beginner to Advanced
*Publishing February 22, 2012

Available eBook Formats: EPUB, MOBI, PDF
Print Price: $49.99
eBook Price: $34.99
About the Authors
Colin Francis is an iOS developer from Gaithersburg, Maryland. After studying C++ and Java, he trained himself in iOS development and worked with Shawn Grimes of Shawnsbits, LLC in Baltimore. Now he lives in Miami, developing iOS apps independently with a focus on utilities and audio-focused software applications.
About Apress Media
Apress Media LLC is a technical and business publisher devoted to meeting the needs of IT professionals, software developers, programmers, and business leaders with more than 1,000 books in print and electronic formats. Apress provides high-quality, no-fluff content that helps serious technology professionals build a comprehensive pathway to career success. For more information about the innovative approach Apress takes to publishing, please visit http://www.apress.com.
###