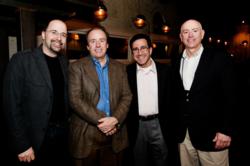 "The NCTC and ACA are vital to the success of the independent cable operators" said Matt Zemon, President & CEO of American Support.
Austin, TX (PRWEB) February 24, 2012
American Support, powered by CSG International, along with Evolution Digital hosted a VIP reception for the board members and staffs of the National Cable Television Cooperative (NCTC) and the American Cable Association (ACA) at Lamberts restaurant at the start of the 2012 NCTC Winter Educational Conference. Attendees enjoyed upscale barbecue along with a performance by Austin guitar legend Monte Montgomery.
"The NCTC and ACA are vital to the success of the independent cable operators," said Matt Zemon, President & CEO of American Support. "The NCTC's combined buying power for programming, hardware and services enables independent operators to compete while providing affordable entertainment, education and communication to their customers while the ACA takes the operator's message to Congress, the Federal Communications Commission and other federal agencies. We appreciate everything they do for our industry and this is one way we are able to say thanks."
NCTC board members in attendance included NCTC President and CEO Rich Fickle, board vice chairman Peter Smith with Wide Open West, Larry Eby with NewWave Communications, Chris Hilliard with USA Communications, Wayne Schattenkerk with WaveDivision Holdings, Gary Shorman with Eagle Communications, and Tom Gleason with NewWave Communications.
"The Evolution team is always excited about supporting and showing our enthusiasm for the dedicated professionals at NCTC and ACA," said Marc Cohen, Evolution Digital's Executive Vice President of Sales. "This year it takes on even more significance as we recently completed our hardware agreement that allows NCTC member access to our suite of advanced set-top boxes. Co-hosting this event is only a small token of appreciation."
About American Support
American Support focuses on growing revenue and subscribers for our clients. We strive to help our customers succeed by operating efficiently, consistently and with excellent customer service, making lives better for our clients, employees, investors and families. And we do all this while maintaining a commitment to creating jobs in the U.S.
From coast to coast, many of America's largest companies trust American Support with their customers.
About Evolution Digital
Evolution Digital, LLC has rapidly entered the cable television equipment industry by challenging the status quo and developing creative and cost effective solutions that enable cable operators to convert their systems to an all-digital video platform. This Denver, Colorado-based company delivers a complete digital turnkey solution to enable cable operators to economically deploy advanced digital cable services by improving the utilization of existing cable plant through recapturing bandwidth, thus increasing their competitive viability.
###