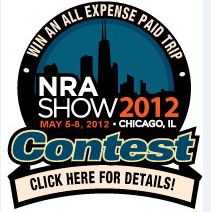 Plantation, FL (PRWEB) February 25, 2012
ChefUniforms.com, a leading national provider of restaurant apparel, chef coats, chef jackets, and more, announced Wednesday that it will be holding another contest for its loyal fans and customers. This contest gives culinary professionals and culinary students a great opportunity to win an all-expenses-paid trip to the National Restaurant Association (NRA) Show in Chicago, IL. Contestants must submit an original recipe, a short explanation on why they deserve to win, a photo of themselves and a photo of their dish.
If you didn't catch the key phrase in the paragraph above, here it is again: all-expenses-paid trip! That means airfare, money for taxis, NRA registration fee and meals. And what makes this contest even better is how easy it is to enter. Winning, however, is as easy as the contestant makes it! March 23rd is the deadline for entering, and the following Monday is when the real competition begins. On March 26th, ChefUniforms.com will put up a voting page for each contestant to get their friends, family, fans, and anyone else really, to visit their voting page and vote for them to go to the NRA Show.
On April 23rd, the virtual voting booths will close and the votes will be tallied (winners are determined by the highest number of votes—so tell anyone and everyone to vote!). One (1) culinary professional or culinary student will be announced as the (1) Grand Prize winner on April 24th. Again, the fabulous prize is an all-expense paid (that's right, all expenses are paid) trip to Chicago, Illinois for the 2012 National Restaurant Association Show from May 5th-8th. Just to reiterate how awesome this contest is, the Grand Prize includes:

Round-trip airfare to and from Chicago O-Hare International Airport (up to $500)
Entrance fee to the NRA Show
Three (3) night stay at the Boutique Loop Hotel, Hotel 71
Check for $425 to be used for taxi rides and food
And their own featured article on the Chef Vibes Blog
For more information about the contest and for complete rules and regulations, please visit http://www.chefuniforms.com/contest.
About ChefUniforms.com
ChefUniforms.com is a leading retailer of restaurant and chef uniforms. Founded in 2007, the company operates out of Plantation, Florida and ships from their distribution center near Atlanta, Georgia.
For more information and to view their garments, visit the Chef Uniforms web site at http://www.ChefUniforms.com or call 877-482-2433.
# # #