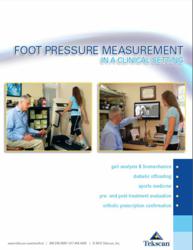 Boston, MA (PRWEB) February 25, 2012
Tekscan®, Inc. is pleased to announce the development of a new eBook, Foot Pressure Measurement in a Clinical Setting; comprised of a collection of case studies that demonstrate the different ways in which pressure mapping can be used to better diagnose and treat patients. The case studies were authored by leading podiatrists in the United States, Great Britain and Australia.
In the 21st century, virtually all clinicians utilize technology to assist in diagnosis and treatment of patients. In podiatry, more and more doctors are turning to foot pressure measurement (or pressure mapping) systems, such as Tekscan's F-Scan® in-shoe system, to gain insight on the interaction between foot and footwear. Tekscan, Inc. developed this new eBook to show exactly how you can use foot pressure measurement systems to uncover the root cause of lower extremity pain, ensure effective offloading of high-pressure areas (which are at increased risk of ulceration) and validate the effectiveness of orthotic devices.
Determining the root cause of lower extremity pain is not always easy. In one of the case studies from the eBook, Bruce Williams, DPM uses the F-Scan system on himself to help him detect the cause of his chronic knee pain. After analyzing the data he gets from the system, including peak pressure profiles, Center of Force trajectory and Force vs. Time graphs, he discovers that his limb length discrepancy is actually not on the side he thought it was on, causing asymmetry in his gait function. After modifying his orthotics, he re-tests with the system to ensure that the symmetry is improved. To see these data for yourself, as well as six other unique case studies, download Foot Pressure Measurement in a Clinical Setting for free at http://www.tekscan.com/foot-pressure.
Tekscan, Inc. is a global leader in the manufacture and distribution of tactile pressure and force measurement systems. Tekscan's pressure mapping systems are used by prominent universities, hospitals, rehabilitation facilities, and corporations around the world for a variety of applications. For more information on Tekscan's medical group, visit http://www.tekscan.com/medical, call 617-464-4500, or email marketing(at)tekscan(dot)com.
###