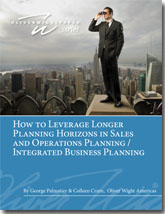 New London, NH (PRWEB) February 24, 2012
Oliver Wight Americas, Inc. has released its newest white paper, "How to Leverage Longer Planning Horizons in Sales and Operations Planning / Integrated Business Planning."
George Palmatier and Colleen Crum, Oliver Wight principals with decades of practitioner experience, share their insights into improving Sales and Operations (S&OP) Planning and Integrated Business Planning (IBP) by applying a rolling planning horizon of 24 months or longer.
The authors contrast S&OP backward-looking reporting and analysis with the dynamic advantages of IBP, which applies decision-supporting orientation based on future-focused scenario planning. Palmatier and Crum provide an executive overview of IBP and then outline why moving to a longer planning horizon is a natural step when transitioning from S&OP to IBP.
The paper explains how implementing longer planning horizons with IBP more effectively integrates operational and financial management. Palmatier and Crum detail why longer planning horizons with IBP provide greater visibility and early identification of gaps between the annual bottom-up plan and top-down strategic goals. This vital data empowers the leadership team to take timely action to close the gaps and more easily adapt within a volatile global economy.
About Oliver Wight
Oliver Wight Americas - thought leaders and hands-on practitioners for over 40 years. As a global business management consulting and education firm, the company specializes in helping organizations work smarter, faster, and better than their competitors. Its principals are seasoned professionals who have real-world manufacturing experience and transfer this knowledge throughout an organization, providing tools to help organizations internalize that knowledge and achieve a competitive advantage in the marketplace. The largest world-wide consultancy of its type, Oliver Wight has offices throughout Europe, North and South America, and the Asia/Pacific Region. For more information, please visit http://www.OliverWight-Americas.com.
###