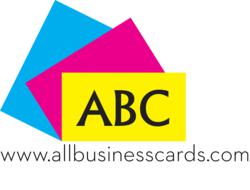 For the last decade, Allbusinesscards has offered customers a classic, inexpensive and incredibly effective solution for attracting the attention of new clients and potential customers
Margate, NJ (PRWEB) February 24, 2012
Allbusinesscards.com, the Internet's premiere site for designer, environmentally-friendly business cards, is pleased to celebrate its tenth year of offering high-quality card options to help businesses enhance their client base and boost their revenues.
For the last decade, Allbusinesscards has offered customers a classic, inexpensive and incredibly effective solution for attracting the attention of new clients and potential customers. Clients have been able to distribute Allbusinesscards products at local stores or other businesses, or use them for networking with potential clients and customers at functions or meetings. A great chunk of modern business might be done through e-mail and the web – but there are few things that have an impact like a well-designed business card.
For only $19.99, customers can now receive 1000 top-quality, one-sided business cards – a classic and unforgettable way to promote and grow your business. Allbusinesscards' products are not only functional and beautiful to look at – they're good for the environment. All cards and products are printed with green-friendly soy-based ink. These inks are not only better for the earth than regular, petroleum-based inks, but produce brighter and richer colors than standard inks. It's a perfect way to grow business without harming the planet.
Allbusinesscards also takes the guesswork out of employing an expensive designer for business cards. Users can simply visit the website, select the style, color and design wanted through the site's easy-to-use design interface and pick out the exact right look that will suit the company's needs. Choose from sturdy 14-point stock or extra-thick 16-point stock (both offered at the exact same price) and customize the card design from one of the thousands of templates offered. Allbusinesscards makes it easy to drop a company logo on to the card – just download the handy business card template to design it right from the office.
This simple do-it-yourself system ensures that customers will be able to instantly view how their business cards will come out - removing all of the third-party annoyances that come with working with a graphic designer. The fast turnaround at Allbusinesscards gets the cards delivered to the place of business in as few as two business days.
For more information on Allbusinesscards and other products offered – including note cards, postcards, stamps and many others – visit Allbusinesscards.com.
###