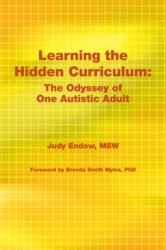 Judy is magical in her approach to helping so many living with autism. This is a must-read book for those living with autism, family members and those who want to know more about autism.
Overland Park, KS (PRWEB) February 28, 2012
Even if you think you are right, never argue with a police officer if you are pulled over when driving.
Common sense, right? For most people, yes, but for individuals on the autism spectrum, unwritten rules like this one aren't necessarily innate. For a long time, the only way AAPC Author Judy Endow was able to learn these types of social rules - or hidden cur­riculum - was to depend on her friends to explain them to her, but often this was only after she had already made a social error.
Drawing from her personal experiences as a woman in her 50's with autism, Endow provides many hidden curriculum items that pertain to most areas of adult life, organized to reflect the major stages she went through when she set out to intentionally figure out how to learn the elusive unwritten rules. Each chapter is accompanied by examples of relevant hidden curriculum items with activities scattered throughout as suggestions for how readers may try to apply the lessons she has learned to their own lives.
Endow's framework, along with a sampling of strategies including Pause and Match, Laugh Along, Recognize and Expand Black-and-White Thinking and It Is Not Necessary to Report All My Truths, as well as more than 240 hidden curriculum items throughout the book, enable readers to develop the ability to more quickly assess a situation and take steps to avoid making social blunders BEFORE they have been committed.
Rather than simply being a list of items, this book presents Endow's three-year journey of her efforts to intentionally learn the unstated social rules as they relate to her life. The fact that the book is written by a person with autism who has learned by trial and error makes it all the more valuable.
In Endow's view, "...no­body is ever too old to learn to become more socially compe­tent if that is something they desire."
# # #