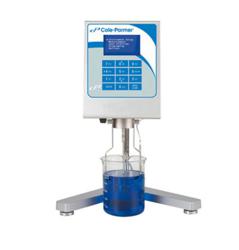 Vernon Hills, IL (PRWEB) February 24, 2012
Options for determining the dynamic viscosity of food, adhesives, petroleum products, biofuels, paint, pharmaceuticals, chemicals and more just expanded. The Cole-Parmer® Rotational Viscometer series offers greater chemical resistance, enabling the instruments to handle chemically corrosive materials. Each is designed with 316 stainless steel spindles, a sealed keypad and over/under range alarms. With 10 language options, including English, French, German, Italian, Japanese, Portuguese, Spanish, Dutch, Polish and Catalan; the instruments are a practical choice for international operations.
Select from basic, intermediate and advanced models. The intermediate models include a USB outlet for downloading data and the advanced model offers a fully programmable interface with the ability to control all functions through a PC.
For more information, call 800-323-4340 or visit ColeParmer.com/19058.
Cole-Parmer has been a leading global source of laboratory and industrial fluid handling products, instrumentation, equipment and supplies since 1955. Our product lines, including popular brand names such as Masterflex®, Oakton® and more, are sold through company-owned customer channel outlets and a strong network of international dealers. We also feature an ISO-17025-accredited metrology lab for instrument calibration and repair. Cole-Parmer responds with excellence to customer needs, and offers application expertise and technical support. For more information, contact Cole-Parmer, 625 East Bunker Court, Vernon Hills, IL 60061. In the US, call 800-323-4340. International customers, call 847-549-7600. Visit us at http://www.coleparmer.com.
###